INDY Cylinder Heads – three words that summon images of high-performance, monster-sized engines used by the Mopar heavy-hitters at the strip. However, INDY Cylinder Heads is more than that. It has small- and big-block wedges and Hemis from mild-to-wild ranging from 360 cubic inches to over 600 cubes that cover the needs of both the street enthusiast and the professional drag racer.
Best of all, INDY only develops and builds Mopar engines and related components, so there are no reconstituted engine parts from other manufacturers on an INDY engine. Recently, Mopar Connection Magazine had an opportunity to speak with Charli Wheatcraft, president of INDY, about the nearly 18-month ownership of the legendary business. With us, she discussed the investment she and her husband, Chris, made in the company, the future, COVID, and other topics.
Above Left: How about a mild 408 Magnum/LA engine. It pumped out a robust 455hp @ 6000 rpm and 475lb-ft of torque @ 3500 rpm on pump gasoline. Mopar Connection Magazine recently reviewed how to degree a camshaft. Above Right: Maybe an INDY aluminum 572 Hemi will get your blood pumping. How do 800hp @ 7000 rpm and 740lb-ft of torque @ 5000 rpm on 92-octane fuel sound to you?
Mopar Connection Magazine: After nearly a year and a half of ownership, has it been what was expected?
Charli Wheatcraft: Contrary to public assumption, we did our research and knew well in advance we were not experienced enough to tackle the task to advance INDY to the potential it deserves. However, we also knew no one else was willing to take on the job when the time came. We felt it was necessary to secure future products for the entire MOPAR community.
MCM: With a racing background, was purchasing INDY Cylinder Heads a natural progression?
Wheatcraft: We feel with our years of racing, it was a natural fit for us. Big corporate money could write a check but then need to educate employees about a product line about which they knew nothing. It seemed natural to use cash and knowledge of the products to secure the investment instead of educating employees about those products.
Above Left: INDY Cylinder Heads freshened up an INDY Maxx aluminum block 572 race wedge–initially assembled in 2006. With all the updates, it pumped out 994hp @ 7400 rpm with 800lb-ft of torque @ 6000 rpm. Above Right: Yet, another Hemi on the dyno. The 572 Super Street Hemi spun up from 3500 to 7000 rpm. It produced 833hp and 770lb-ft of torque on 92-octane pump gas.
MCM: During the brief ownership, what changes have been made to improve the business?
Wheatcraft: Many funds were dispersed to update equipment, programming, tooling, and complete the facility for future manufacturing.
MCM: What new parts/products have been introduced to the business since the purchase?
Wheatcraft: We have added our new X Block, which is currently in full production. Mainly everything else remains the same, aside from minor adjustments. By updating and investing in an extensive product line, we will secure the future for all needs. We feel we didn't "purchase a business;" we purchased a product line that is essential for all MOPAR lovers. With minimal competition, if treated appropriately and done correctly, INDY will provide a future beyond us!
Above: INDY makes considerable power with every normally aspirated engine assembled in-house, but adding a turbocharger should get the job done if more performance is required. 
MCM: Have additional employees been added to assist Ken Lazzeri with the assembly and engineering of the engines and products?
Wheatcraft: Ken Lazzeri, like it or not, no one on the face of the planet has built more Mopars single-handedly than Ken. We are blessed that he wants to continue his journey with us! With that being said, we have hired numerous employees to try and wrangle as much knowledge from Ken before the day arrives when he chooses to walk away. This man knows the exact number of engines and cubic inches he has assembled since his late-teenage years and has the documents to prove it. We feel honored to try to extract as much knowledge along the way as possible.
MCM: Over the years, the previous owners of INDY Cylinder Heads got a bit of a reputation of being less than helpful/concerned about their customers. What is being done to reestablish genuine customer service?
Wheatcraft: Knowing customer service was a significant issue, it was apparent that something needed to be addressed. Our approach was to put the shoe on the other foot. Serving a community as large as the "Mopar World" is challenging. Could you imagine having the knowledge and skills to develop and manufacture the product line but having to purchase or update tools and equipment while ensuring the employees are trained to operate the tools and equipment?
Above: It was at PRI 2019 where the acquisition of INDY Cylinder Heads by Chris and Charli Wheatcraft was first formally announced.
The phone calls requiring customer assistance are constant, and of course, the business must constantly be promoting sales. Russ and Fred Flagle did this for 48 years until we offered to help. Yes, it was a plan created out of necessity. After trying on those shoes, we decided to take them off and put on our boots to begin the work that would be necessary to secure our investment. INDY Cylinder Heads is the life's work of a true rags-to-riches story of the Flagle brothers. Were there a few mistakes made along the way? Absolutely. To us, it's a shame that all the customers they served over the years focused on negative aspects of the business. Sadly, the bad has outweighed the good that these men provided. We will always be grateful for the opportunity they offered us.
MCM: During 2020, did COVID affect the business?
Wheatcraft: COVID did not affect the business as far as sales, but it did in other ways. Several safety precautions had to be made, which had costs associated with them. It has been a trial-and-error procedure to keep all the employees safe. It created considerable delays in manufacturing, causing significant disruption in our projected budget and timelines. However, sales have been strong, and thus far, continue to support our investment.
Above: Indy has excellent equipment, and since the Wheatcraft's investment in the company, the programming, tooling, and complete facility have been updated and streamlined for efficiency.
MCM: With COVID still around in 2021, what Mopar shows will INDY Heads plan to attend?
Wheatcraft: We will attend Mopars in the Park, Stillwater, MN, Monster Mopar, Norwalk, OH, Chrysler Carlisle Nationals, Carlisle PA, Mopar Nats, Columbus, OH, and Mopar Muscle Dragfest, Long, KY.
MCM: Out of all of the engines and parts sold, what is the biggest seller?
Wheatcraft: The biggest seller by far is our Street Hemi. There are only two types of Motorhead men (and women) in this world, (1) a man that wants a Hemi or (2) a man that has a Hemi.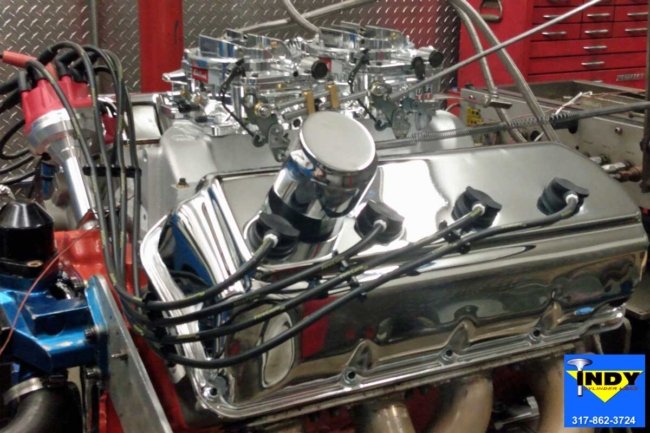 Above: According to Charli, there are two types Mopar men – those who want a Hemi and those who have a Hemi. Unfortunately, we are in the former group, for now.
MCM: What are the plans for INDY Cylinder Heads?
Wheatcraft: We didn't buy a business; we set out to invest in a product line to secure a future for our Mopar community. At the same time, we promised we would never use the term "we are going to fix these problems." Things at INDY never needed fixing; they needed investments and proper procedures to ensure quality products. If the economy stays stable for the foreseeable future, we plan to continue to invest in employees, equipment, software, and programming.
MCM: Charli, thank you for taking a few minutes from your busy schedule to speak with our readers. And readers remember if a special part or a complete engine is required for a current or future project, contact INDY Cylinder Heads for prompt service, reliable advice, and quality Mopar parts.