In my ever self-effacing manner, I've often joked that I could pen quite the entertaining account of things I've done wrong while building cars; be it trying to make parts fit that very clearly were never meant to, over or under tightening hardware, cutting corners, being in a rush or just any number of other shenanigans that all of us are guilty of. It's comically part of the experience of building a car in one's garage. Yet, as many read this paragraph, the thought in their mind will be to devise how to avoid these mistakes entirely – and that is a problem.
See, for whatever reason, modern Western Society has reared not just one, but multiple generations to think that failure is bad. Failure is not bad, but rather educational, because failure teaches us experience. And experience is – for better or worse – immensely valuable. Lessons learned by experience are nary forgotten, and are often the first tokens of knowledge that we pass on to others. Moreover, accumulated experience over time becomes wisdom, and isn't it a wise man who learns from another man's mistakes?
That is why I often grimace when I see posts in forums or on Facebook wherein would-be enthusiasts admit to knowing virtually nothing about the cars they own or shrink at the challenge of working on the car themselves. (Now, in all fairness, I myself have delegated specific tasks to specialists and professionals time and again – so I write this with a fair bit of self-awareness.) As a bit of context I'll submit a couple of examples to serve as parables to my point:
Ex. 1: A while back, my phone buzzed with an unknown number but a local area code. I answered and was greeted by a very eager voice. "Hello! [Mopar Connection Technical Editor] Mike Wilkins said I should call you about my '69 Charger. I was hoping you could help me out." Seeing that this was a recommendation from a fellow MCM teammate, I couldn't say no. "I just bought this car – it's a bit of a basket case – and I'm trying to reassemble it now that it's been painted. Can you come over and help me put in the weather stripping?"
My initial thought was to not only say an impassioned NO! but that he shouldn't own the car if he was too overwhelmed with the challenge of installing weather stripping. Rather, recollecting that I too had to begin at "square one" like this gentleman, began asking questions: Did he take it apart? [No.] Did he have all the parts to put it back together? [No.] Did he have any reference guides, manuals or restoration books? [No.]
Calmly, I explained that he needed to equip himself with these materials and verify if he had everything he needed before going forward. And if he needed to purchase anything, to use our "CONNECT" coupon code with YearOne (you can use it too! It's exclusively for Mopar Connection readers.) We've reconnected a few times, and progress on the car is going slowly, but he's learning. Although it appears daunting, he's rising to the challenge step by step, and that, in my view, is the most important part: wanting to learn.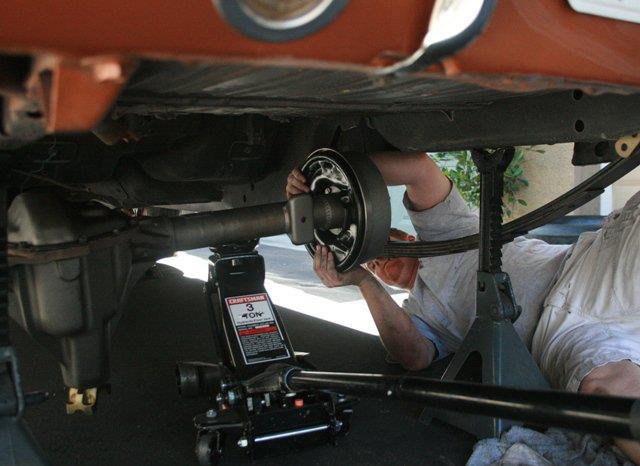 Ex. 2: A month or two ago, I got a snapshot taken by my brother from the Southern California donut shop parking lot where a weekly car cruise has been hosted for nearly half a century. The car was a clean '68 Charger R/T (440/auto). According to my sibling, the owner was "a young guy in his early 30's" who wanted something to distinguish himself from his professional colleagues who were snatching up exotic sportscars and the like. Admittedly, the new owner knew absolutely nothing about the car, or even how to maintain it – nor expressed much interest in learning much else. All he knew was that it looked cool, sounded mean, and smoked the tires upon command.
I quipped that all it would take is one chilly morning for the Charger to struggle or even fail to start for the owner to sell it. Wrestling with a temperamental AFB carburetor is no chore that a person who isn't emotionally invested would like to take. Add to that exhaust leaks, a cacophony of rattles from worn and weakening suspension bushings and springs, low voltage or broken wires, and so, so many other consumable items, and an old car creeps out of the "asset" category into the "liability" one. Today's modern muscle cars are a godsend in comparison to the machines that preceded them and it's foolish to think that a classic can perform equally, especially if you're unwilling to put in the time and effort to make them perform as such.
Ex. 3: This might be a little unfair to our Associate Editor, Cody Cole, but I'm going to share this one anyway. In the 10-to-12 years that I've known Cody, he's always identified himself by owning a '69 Charger very similar to mine (factory T7, Camel interior, 383, 727 automatic, etc.). Only recently did I learn that the car was factory-equipped with a 318, and the 383 was transplanted by his father some years earlier. Equally, in all of this time, Cody has never once driven his Charger, nor even had it running. In fact, he wasn't sure if it would even fire up at all. That to me, was a sin. The motor was complete, but the car had sat all this time without ever investigating whether it ran or not?
"All it takes is fuel and spark to fire a motor," I counseled. "Check your oil, plug wires for cracks, wire up a battery and see if it'll click or even turn over." Cody quickly informed me that the Charger was without a gas tank, to which I replied, "Who cares? Run a few feet of rubber hose from the mechanical fuel pump into a 3-gallon gas can! Splash some down the carburetor and crank it over. You – at the very least – want to know if it'll fire up and idle on its own." I gave him a quick rundown of items to buy and set him on his way. Obviously, a permanent fuel tank and lines will be needed, but as I explained, "The sound of your car running under it's own power will light a fire under your butt that you've never had until now."
That is really, what I try to convey with those whom I associate: build your own car, not because it'll be better than having a shop do it, or that I hold any grudge against restoration shops; but because I value the experience of building the car as much as I value driving the car itself. Yes, I understand that not all of us are so mechanically inclined, nor am I saying that those who aren't ought not to own a classic car, but I am saying that the process of familiarizing oneself with every facet of their car will serve them well beyond the toil and time needed to finish such a project.
Certainly, we live in a fast food society, where next day shipping is guaranteed and movies are on demand. We want it all because we can have it all, and now through auction houses and online shopping, purchasing the classic car of your dreams can be done with a click of the mouse. And that is a great thing for sure, but I wonder if we're someway losing the soul of hot rodding in our ease. As for me, I'll always hold someone in a little higher stature who built their car themselves than those who cut a check. It's crass, I know, but there's respect deserving to be given for those who've put in the time and earned their scarred knuckles.
–Kevin