During the media preview for the 2021 Los Angeles International Auto Show, Dodge boss Tim Kuniskis was speaking with Motor Authority when he dropped a bomb on the modern Mopar world. Kuniskis stated that after 2023, the Hellcat Hemi will be gone and in 2024, the first Dodge electric muscle car would arrive. That led to a myriad of reports about the demise of the Hellcat, with some outlets going so far as to state that after 2023, there may not be any Hemi-powered Dodge cars remaining.
All of those reports created an understandable amount of doom and gloom among the modern Mopar social media communities, as few longtime Hemi lovers are keen on the idea of switching over to electric power. Frankly, I don't like the sound of it either, as I far-prefer my Hellcat Challenger over any of the quick Tesla appliances.
But what if the engine that we know as the Hellcat isn't being discontinued altogether? Everyone took Kuniskis' comments at face value, focusing on the fact that he said that after 2023, there will be no Dodge Hellcat cars to buy. However, if we look a little closer at the wording of his comments, perhaps he isn't forecasting the end of the high performance Hemi but rather, the end of this generation of the Hellcat drivetrain.
Tim Kuniskis LA Comments
While speaking with Motor Authority, Tim Kuniskis made the following comment while talking about the current Dodge Hellcat cars. "I will have this car, this platform, this powertrain as we know it through the end of '23. There's two more years to buy a Hellcat, then it's history."
We aren't sure whether he was referencing a Challenger or Charger, but we know that they share a chassis platform and powertrain offerings. We also know that "Hellcat" is a trim level of the Challenger and Charger which is built around the supercharged Hemi powertrain, so what he is saying is that the Hellcat Challenger and Charger with the supercharged Hemi will be offered through the end of 2023.
That all sounds like bad news, but what piques my interest with his statement is the portion "as we know it". We know the Hellcat powertrain as a supercharged 6.2-liter Hemi mated to an 8-speed automatic in most models, with some 6-speed manual Challengers added into the mix. In saying that the powertrain "as we know it" will be history, it states that the supercharged 6.2-liter Hemi with the current transmission options will be history. It does not necessarily guarantee that the engine that most people refer to as the Hellcat Hemi will disappear forever.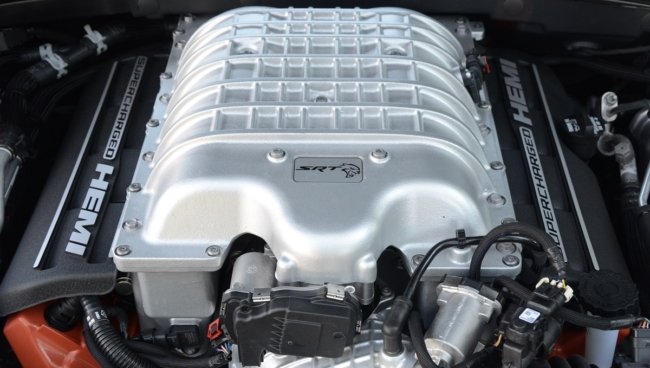 Future Possibilities
So, if the Hellcat as we know it will be history, what might be coming that we don't know? Well, back in July of 2019, FCA announced that ZF Friedrichshafen AG would provide the next generation of their 8-speed automatic transmission for the automaker's rear-wheel-drive-based vehicles, which includes four-wheel-drive models. Neither ZF nor FCA stated how many transmissions were ordered, but the German company stated that the FCA order was ZF's second-largest order ever and that a "significant portion" of them would be hybrid transmissions.
Hybridization is the biggest advantage of the new ZF 8-speed over the version currently in use in the Dodge cars, adding an integrated electric drive motor within the transmission case. That integrated drive system leads to improved fuel economy and all-electric driving capabilities, with up to 214 horsepower and 332 lb-ft of torque coming from just the hybrid motor. In theory, this transmission can be mounted to pretty much any engine to create a hybrid powertrain.
If Dodge took the supercharged Hemi and mated it to the new ZF 8-speed hybrid transmission, it would technically be a new powertrain, unique from the Hellcat as we know it today. It would surely yield better fuel economy than the current combination of the supercharged Hemi and the 8-speed automatic transmission as well as offering some all-electric driving capabilities.
More importantly, according to the ZF website, this new hybrid transmission is capable of handling up to 738 horsepower and 738 lb-ft of torque, so not only would the supercharged Hemi hybrid powertrain be more fuel-friendly, it could also be more powerful than the current standard Hellcat models.
In short, let's say that Dodge starts with the current supercharged Hemi in the Charger and Challenger, which offers 717 horsepower and 656 lb-ft of torque. In mating this engine to the new ZF hybrid 8-speed, the integrated motor could add an additional 21 horsepower and 82 lb-ft of torque on top of the peak engine output, leading to a total system output of 738 horsepower and 738 lb-ft of torque.
Really, Dodge could even dial the supercharged engine back a bit, leaning more heavily on the electric motor to reach the peak capacity of the transmission, reducing fuel use without diminishing performance. For example, if the supercharged engine was returned to make 650 horsepower and 600 lb-ft of torque, it would likely yield better fuel economy numbers, but the electric motor could make up the difference needed to still pack 738 horsepower and 738 lb-ft of torque.
In any case, the combination of the supercharged Hemi and the integrated electric motor would easily allow this new powertrain to offer more overall power, improved fuel economy and all-electric driving. This would be very different from the powertrain as we know it today and with this new model would likely come with a name other than Hellcat.
This is purely speculation, but it is feasible. Should Dodge go this route, everything about Kuniskis' comments in LA will be accurate, but it won't be the demise of the Hellcat model – it will be an evolutionary change with new branding.