Stock rocker arms were designed and made for stock cams, stock valve springs, and stock engines. Unattractive and unwilling to support big horsepower, they've got plenty of potential to leave you looking at taillights when the rubber meets the road. The valvetrain is no place to skimp on an engine build, so check out these newly-released, Mopar-licensed aluminum roller rocker arms for an up-top upgrade.
With a 1.5 ratio, these shaft-mount rockers are precision-machined and designed to be a bolt-on improvement for both big (P/N 440-868) and small (P/N 440-869) block applications. The bores are bushed with internal oil channels to supply plenty of free-flowing oil to one of the most critical assemblies of an engine's top end. Even the pivot area gets its share of much-needed lube. Capacity stands at a maximum spring diameter of 1.55 inches and an open spring rate of 650 lbs.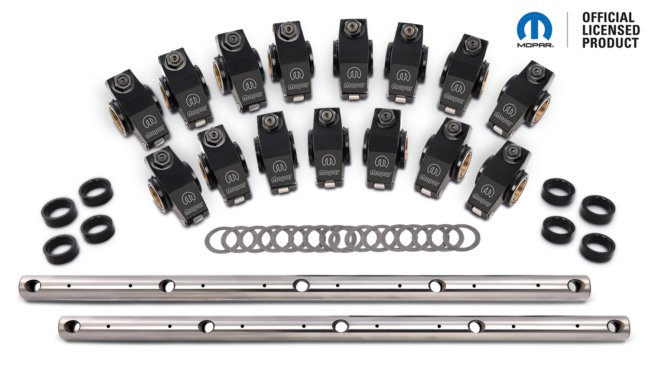 And it's a shame they'll be hidden under a set of valve covers, because these things look the part too. A big ol' Mopar emblem is the crowning touch to an already beautiful black anodized finish. Included in each package are sixteen rockers, hardened shafts and spacer hardware. Stock bolts can be used to attach the shafts to the cylinder heads for ease of installation. Roller rockers really are one of the most effortless upgrades out there and quality pieces like these give hot-rodders all the more reason to say "skidaddle" to those stamped steel stockers.