When you mention famous TV and movie cars, usually the first car that people think of is the General Lee, Bo and Luke Duke's trusty '69 Dodge Charger. While many cringe at the fact the "Dukes of Hazzard" TV show killed 300+ second generation Chargers during their seven seasons, the whole thing has a huge upside. Let's face it, that bright orange '69 Charger is the reason a lot of people are into Mopars; us included.
"When people ask what got me into Mopars, I tell them it was two things," says Marc Wright of Ontario, Canada. He continues to say, "I always loved the 'Dukes of Hazzard' as a kid. I watched it all the time and fell in love with the General Lee. After that, I discovered the band "Big Sugar" (you may recognize the name from a feature we recently did on Marc's friend Ron Edelenbos and his '66 Charger– Ed.) and how front man Gordie Johnson had a '70 Charger. From that moment on, I had to have a second generation Charger. There was no doubt about it."
Over the years, Marc remained true to his love for Mopars with his daily driver '05 Dodge Magnum R/T however he still didn't have a second generation Charger. Eventually, a Charger would become a part of his life but as a silver lining to a tragic event. Marc tells us, "I unfortunately lost my first wife on October 15th, 2005 at the young age of 38. It started off as breast cancer."
"After having her breast removed, enduring round after round of chemotherapy and radiation, we thought she was out of the woods and on the mend. Sadly, she began having terrible headaches which were caused by the cancer getting into her meningeal fluid (it's what is around your spine and brain). She tragically passed away a few months later," shares Marc.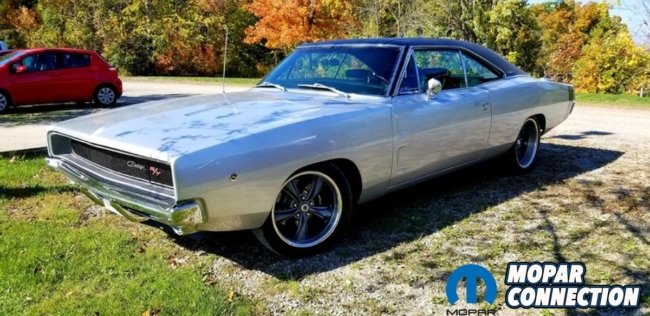 This is where the Charger comes in. In her last few weeks, she told Marc to go and get that muscle car they had always dreamed of. Knowing how short life truly is, Marc decided it was time and began hunting for his dream car. In April 2006, he came across a '68 Charger R/T project on eBay in Pennsylvania. The Charger was advertised as a numbers matching car that came from the factory in TT1 Medium Green Poly paint with a green vinyl top, white interior and a white R/T stripe. "I knew it needed work but I put my trust in the seller and believed his description of it so I pulled the trigger on it and made it mine," says Marc.
Unfortunately, when the Charger showed up, it was in a lot worse shape than the pictures and description led him to believe however, one thing Marc was told was correct; it was a real deal numbers matching Charger R/T. Not to be discouraged and keeping his dream in mind, Marc proceeded full steam ahead, mounted the rusty Charger on a rotisserie and ordered up everything he needed from AMD (Auto Metal Direct) except for a pair of nice used doors that he sourced out of Flint, Michigan.
The Charger ended up needing a lot of rust repair as the rear frame rails, trunk floor, tail light panel, trunk lid, quarter panels, front floor pans, front fenders, hood, rear valance and inner fenders were all replaced with brand new AMD parts. Underneath, front and rear torque boxes from US Car Tool were installed along with frame connectors and inner fender support braces from XV Motorsports. The front frame rails were beefed up as well with some gusseting work.
With all of the metal and body work done, it was time for paint. The Charger was sprayed in a beautiful metallic silver color that was sourced from a 2010 Dodge Viper, a color Marc prefers much better than the original green. A black R/T stripe was installed over the rear of the car and a classy black vinyl top was put on. With the exterior of the car complete, Marc went to work installing a brand new black interior. To accent the silver exterior color, Marc decided on matching silver pleats in the seats.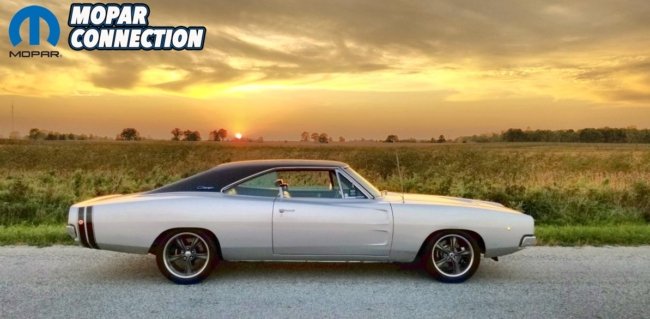 Under the hood, the Charger's original 440 was bored .40-over and fully rebuilt with new H-beam rods, Harland Sharp roller rockers and an Edelbrock Peformer RPM camshaft. For better performance, he went with an Edelbrock Performer RPM intake manifold and matching cylinder heads. To give the 440 a hotter spark, he installed a Firecore RTR distributor and a Proform mini starter was installed for quick cranking every time. The TTI headers feed into an H-pipe exhaust system.
A new 26″ American Eagle Radiator fitted with dual 12″ Spal Fans is paired up with a 180 degree thermostat to keep everything running cool. Originally Marc had installed an 850 CFM carburetor onto the 440 but just recently he made the switch to a Holley Sniper fuel injection system with an internal fuel pump fitted inside the factory style fuel tank and absolutely loves it! The original 727 Torqueflite automatic was rebuilt with a shift kit, 2500 rpm stall converter and a B&M cooler.
Marc upgraded the Charger's electrical system with a Power Master 75 amp alternator, added relays on the headlights and got rid of the factory unreliable ammeter gauge with a Mad Electrical ammeter bypass system. Since Marc built the car to drive, he installed a QA1 Level 3 suspension kit which includes a new K-member and shocks. He also went with Magnum Force 2" drop spindles and Hotchkis leaf springs, torsion bars and rear sway bar.
For better stopping power, Wilwood 12.19" disc brakes were installed on all four corners and a Borgeson power steering box, large sector pitman arm and power steering pump were fitted for a quick steering response. For wheels, Marc chose a set of Boss 338s (17×8″ front and 18×9.5″) and Mickey Thompson Street Comp tires. Since its completion in late 2012, Marc has been hard at work racking up the miles. "I've put 5,000 miles on it this season. I'm literally driving the wheels off this car and enjoying every second of it. A lot of guys are scared to drive their cars when they spend a lot of money on a restoration but I didn't build it to look at it. I built it to drive and that I do; hard!" says Marc. Marc would like to thank Jr and Bryan Bendall at J's Performance in Sarnia, Ontario for all of their hard work on the car.