"Honest, practical, logical, non-conforming and rational; those are the words that seem to motivate my ideas on what I really want out of any car I own," says Ron Edelenbos of Ontario, Canada. It was back in 2004 that he found and purchased a 1966 Dodge Charger. The car had a fresh Day 2-style mild restoration done on it and a 440 Six-Pack engine under the hood. Overall, it was a lot of car for the great deal Ron got it for.
"It was nice and the reality was that I could have left it just as it was. I won lots of awards with it and it was fun to drive but it wasn't exactly to my full liking. I grew up with a variety of cars but the ones I relished the most had the least power and the best handling. I kind of knew that within my time with this Charger I would go against the grain of the mainstream 'Maintain Originality Complex' mindset and truly make it my own," explains Ron.
One of the first things you'll notice is the license plate "BIGSUGER" and that in itself has quite the unique story behind it that all stems back to Ron's love and passion for music. Ron tells us, "Right off the bat, within an hour of owning it, "Big Sugar" became the name for the Charger. The funniest part was that it came out of pure coincidence. On the way home from picking it up, my friend driving the vehicle we were using to tow the Charger home with simply asked me "Whatcha going to call it?" At that very moment, a Big Sugar song came on the radio and I just blurted out Big Sugar! From that moment on, it stuck and for some reason it worked well with the car."
For those that don't know, Big Sugar is a well-known Canadian reggae rock band from Toronto, Ontario that just so happens to have a strong affection for Mopars. In fact, they have a 1996 album called 'Hemi-Vision' and even better, their 2003 Greatest Hits album "Hit & Run" features a 1970 Charger R/T on the cover. If you are going to name your Mopar after a band, it doesn't get any better than that. According to Ron, 14 years later people still ask about the name and refer to it as "The Big Sugar Charger."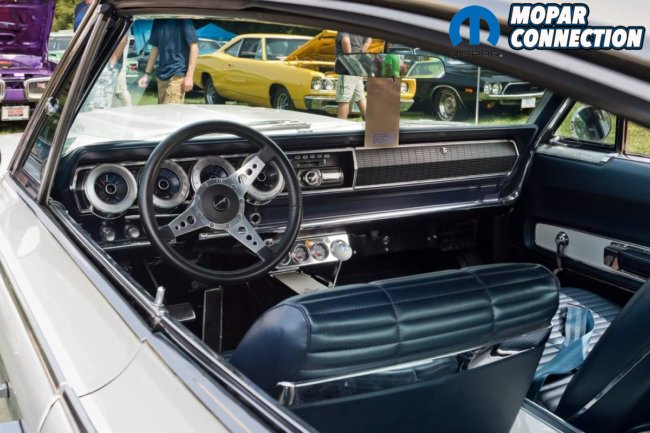 Since bringing it home 14 years ago, Ron has made changes to better suit his taste but overall, the general appearance of the car remains mostly original to the day he purchased it. One of the main exterior changes is a custom front air dam that we think suits the car perfectly. Underneath the Charger is where you will find the biggest modifications made. "My goal with the car was to build the foundation of the chassis up enough so that it would support any future suspension upgrades and torque/power increases that I wanted to throw at it. Everything has been tightened up with miles of filler rod steel and bracing," explains Ron.
To further stiffen the car up, Ron installed sub-frame connectors, torque boxes, custom gusseting and boxing throughout the car and beefed up the front bulkhead area. Everything was then followed by stitching factory lap welds and Ron also gusseted and installed a 1970 K-member. With that all complete, Ron ensured all of the bushings and ball joints were in good order and then moved to the braking system. Ron says, "I stayed with a manual brake setup for that true road feel and chose a 13" disc setup with SRT Viper calipers for the front and Dr. Diff's 10.5-inch Cobra caliper setup for the rear."
For better handling, Bilstein shocks were installed on all four corners. "With the new shocks, I felt an immediate change and satisfaction driving the car. Even with the factory front sway bar and an old Addco rear sway bar, the drivability and cornering performance was good. I drove it like that for a number of years and enjoyed it. When Hotchkis and QA1 entered the Mopar scene further down the road, I knew it was time to upgrade a little further and quickly ordered the Hotchkis front and rear sway bars as well as the QA1 upper and lower control arms. With these new parts installed, I noticed a huge improvement! I also installed Mopar Performance .97 torsion bars and Mopar Performance rear leaf springs and while they may seem to be a little light for this type of setup, I find they actually give a real compliant feel and awesome road manners," shares Ron.
With the suspension upgraded, Ron now found the next weak point in the car; the tires. He tells us, "The weak spot with the handling of the car was the 15" BF Goodrich Radial T/A tires that were on it. I searched for a larger wheel that still had a period correct look while at the same time finding a wheel that you wouldn't see often. I wanted something unique. Around this time, I stumbled upon a company called 'Trans Am Engineering'. They produce the Superlite wheels that were found on all of the Trans Am series race cars back in the day like Dan Gurney's AAR 'Cuda and Sam Posey's Challenger T/A. For a more modern look and feel, I chose their 17×9.5" version of those wheels. I had them painted in Anthracite with a light dusting of gold and then wrapped them in Nitto 555G2 tires. With these, I no longer have a weak point and the car sticks very well around corners."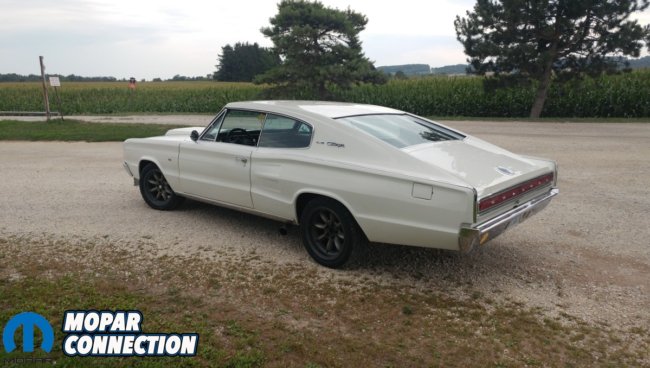 Under the hood sits a 440 that has been bored .30 over and fitted with a Promax 6-Pack set-up that produces around 475 horsepower. The engine breathes through 1 7/8" TTI headers that go into a 3" side exit exhaust like that found on the Challenger T/A and AAR 'Cuda. Shifting is done by an A518-46RH overdrive transmission out of a 1995 Dakota that is mated to a custom aluminum driveshaft and an 8 ¾ Suregrip rear end fitted with 3:91 gears. Ron tells us that it's a good reliable combo that gets him lots of fun seat time while maintaining around 17 mpg on the highway.
The metallic blue interior of the Charger is exactly how you'd find it in 1966 with the exception of a black carpet for better accenting and some custom trim. The biggest change Ron made is one that really reflects his love for music. Mounted where the back seat would be, you'll find a 750 watt Alpine/Rockford Fosgate audio setup and a guitar amplifier that has been turned into a sub-woofer. How cool is that?!
Going ahead, Ron says "I'm looking at doing some more modifications including better front seats and restraints, some type of body line stripes and fuel injection. I definitely am leaning towards a modern Hemi though. We'll see, it's never really done. It's a DRIVER and the end goal for me is to get in, get it dirty and just drive. A place to smile for hours and listen to all the greatest guitar riffs my ears can soak up!"