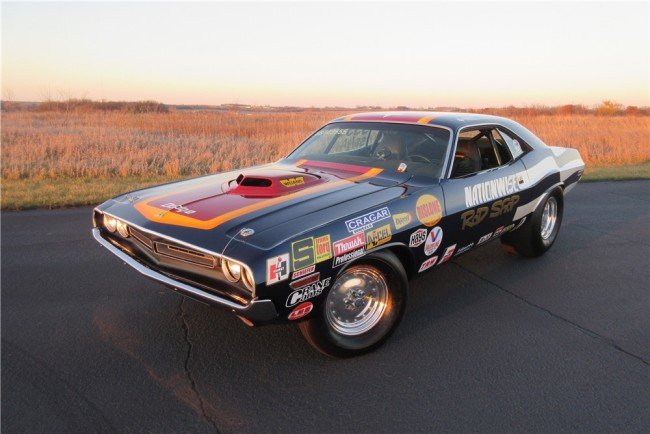 Recently at the Barrett-Jackson auction in Scottsdale, the legendary Nationwise Rod Shop World Champion Super Stock 1971 Dodge Challenger shocked Mopar enthusiasts when it sold for a surprisingly cheap price of $44,000! This Challenger is a historic piece of NHRA and Mopar history as many know. This Challenger is not a replica; it's truly the legitimate original one driven by five-time World Champion Drag Racing Hall of Fame Driver Dave Boertman.
Starting as a body-in-white directly from Chrysler, the front fenders were cut and moved forward and rear wheel wells were stretched and enlarged so the whole suspension of the car could be moved forward 2″ and still measure correctly for inspection. The engine was moved back 2″ and the rear bumper was recessed in 1″ and filled with 75 pounds of lead. From there, the gas tank was hollowed out on the top side and filled with 50 pounds of lead. The roll cage was installed by the legend himself; Herb McCandless.
The car is powered with its original-as-raced 383 that's been heavily modified with updated heads, rocker gear and cam shaft; all of which have been recently freshened. The 383 is backed to a fresh all aluminum 727 automatic transmission. All of the safety items on the Challenger have been updated with new seat belts, tires and brakes.
The Rod Shop Challenger has been well taken care of over the years and its history is well known. It sold with a complete owner history, vintage photos, and lots of magazines. The best part about it all is the car is ready to go racing tomorrow! $44,000 was a screaming deal for a complete turn-key race car, especially one with the amount of history that it holds. It was last raced in September 2015 where it turned in a 10.43 pass at 128mph leaving with the front wheels in the air.