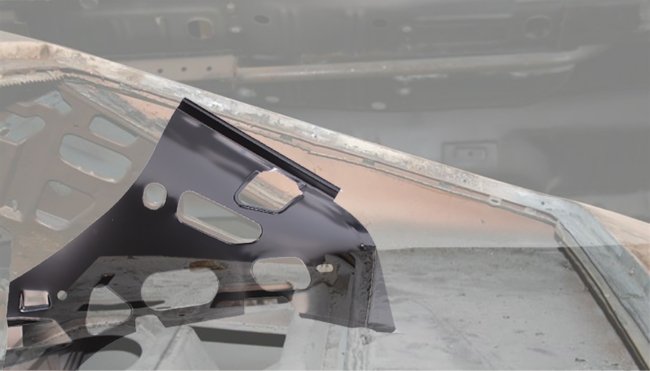 Over the years, AMD (Auto Metal Direct) has worked very hard at producing brand new reproduction sheet metal to replace all of the rusty parts on your Mopar. They proudly offer practically everything you would need to rebuild your Mopar's body back to new condition. With new products being released monthly, we've always said that if they don't offer it yet, there is a good chance they will at some point in the near future.
Thanks to their dedication to provide quality parts, AMD has built up a very extensive catalog of sheet metal products. With B-body 1968-1970 Dodge Chargers being one of the most popular Mopars ever built, AMD offers just about every possible sheet metal part that could need replacing on them. To make their second generation Charger catalog even bigger, AMD has just released a number of parts that could be very helpful in ridding your Charger of that nasty rust bug.
Deck Filler Corner LH- Part # 654-2668-L- $35.99 MSRP
Deck Filler Corner RH- Part # 654-2668-R- $35.99 MSRP
C-Pillar Lower Support LH- Part # 654-2668-1L- $129.99 MSRP
C-Pillar Lower Support RH- Part # 654-2668-1R- $129.99 MSRP
Package Tray Extension LH- Part # 640-2668-L- $59.99 MSRP
Package Tray Extension RH- Part # 640-2668-R- $59.99 MSRP
For the best price on AMD parts and top notch service, give the folks at Classic Muscle Metal LLC (CMC) a call. They proudly sell everything AMD offers including sheet metal, glass kits, trim and everything else! They are based out of Cleveland, Georgia and truly are the absolute best when it comes to everything AMD. Not only do they sell AMD parts but they are also the certified AMD Installation Center as well. They are competitively priced and will do whatever it takes to make sure you are 100% happy. Give them a call directly for all of your classic Mopar project needs, or visit them directly on their website.