It has been a couple months since we got Project Orange Crush back on the road. There were a lot of upgrades we did alongside the 6.4 HEMI swap and each one has made Project Orange Crush a lot more fun to drive. One of the best things we did was dial in our American Powertrain Magnum 6-speed and Centerforce DYAD clutch. 
The Magnum 6-speed from American Powertrain has been installed for a little while now but it has never shifted this smoothly. Orange Crush feels like a new sports car now. The tightness of the White Lightning paired with the Hydramax system and the Centerforce DYAD clutch is a match made in heaven. 
American Powertrain's Hydramax clutch system has also been in the car for some time but we never took the time to make sure it was dialed in. We blew a couple bearings out because of our ignorance (sorry Matt). Since we had to swap bellhousings to the Quick Draw Brand Magnum to HEMI bellhousing, we decided it was a good time to dial indicate our bellhousing. We will have a separate article going through the full process of dial indicating our bellhousing, but we found out it makes a big difference. 
With the new bellhousing dial indicated, we remeasure our shims for the Hydramax throwout bearing. With the proper amount of shims installed, we bolted the Magnum 6-speed to the 6.4 HEMI and Centerforce DYAD clutch. It's such a shame that we have to cover up the Centerforce DYAD clutch.
Although it might be covered up, we know that the Centerforce DYAD clutch is there. The grip of the DYAD clutch is incredible and honestly has the pedal effort of a sports car. The DYAD does not miss a beat. Whether you are on the drag strip or just cruising in town for some groceries, it can do it all. The best part is the clutch will withstand 1000 ft-lb of torque, so we should never need another clutch, ever.
We have gone through a lot of trial and error on Project Orange Crush over the years. One of the lessons we have learned is to listen to the experts. If they suggest remeasuring or going with certain products, take their advice. We have done our fair share of ignoring advice here and there and every time it causes headaches and poor performance.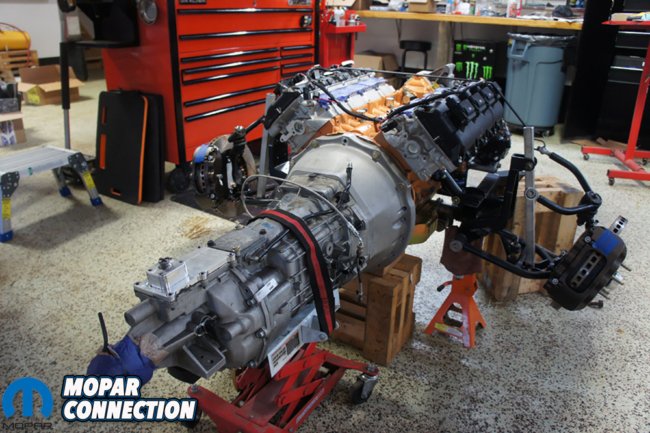 Although the 6.4 HEMI swap took longer than we anticipated (and then blowing up one 6.4 HEMI and then doing it all over again) we would not go back. Project Orange Crush's performance is the best it has ever been. The drivetrain is dialed in performing flawlessly thanks to American Powertrain and Centerforce. We still have plans to make the car even better. For now we are going to continue to enjoy rowing our 6 gears and squealing some tires until the snow flies.