As we near the end of the year and show season we wanted to take a moment to look back at a few of the events we participated in this year. The project cars performed well with help from all of our sponsors. Although the cars performed our driver still needs some work. Everything else aside, we had a ton of fun, met some new people and made some great memories. The only disappointment we had was the lack of Mopars at the events.  
You may already know from social media or past articles but our 1972 Dodge Dart, Project Orange Crush, has been going head to head with many platforms including Corvettes, Camaros, Mustangs, Miatas, Porches and many more. Although winning is always fun, we have been proud of being competitive against the other cars.
These few events we have been attending for a couple of years and for the majority of the time we are normally the only Mopar at the events. The events are not your 20-30 local autocross or car show but around 100 or more cars from all over the United States gathering for a weekend of autocross and road course racing. We understand that Mopars are not going to be the majority but we would like to see at least a couple more in attendance.
We see so many awesome Mopar builds at shows and on social media but never seem to come across them at any of the events we participate in. Maybe we are in the wrong area of the United States but we really hope that 2019 brings out more Mopars at these events. We have talked with Bill Reilly at Reilly Motorsports about this exact subject and he agrees. He ships out a ton of suspensions but seems to only come across a handful of them in the wild putting his suspension to use on the autocross course.
Super Summit Show 2018
Early this year we took our 2013 Charger Daytona and Orange Crush to Norwalk, Ohio to run around the autocross at the Super Summit Show. The event is FREE to spectators and participants. The event is 2 days long and netted us about 10-15 laps around the autocross track and might have been able to grab a few more. We could have made a few trips down the drag strip too but did not as we were busy killing cones.
Norwalk, Ohio might be a bit of a hike for some of you but it is completely worth it. Summit Motorsports Park is one of the nicest facilities we have been to. Ff you get bored on the autocross course you can try your hand at Drag racing or just sit around at the car show. They also bring in all of their vendors for you to talk to and offer extra discounts on everything in the Summit Racing catalog. Oh and do not forget to grab your pound of Velvet ice cream for a $1 while your visiting.
We have to admit we did catch a couple other Mopars running the autocross at Super Summit Show, but we still think there are many more of you that could be there. If you are a newbie do not be afraid to try. Go slow, ask questions and see what your car can do. It is all about pushing your car, having a little fun and staying safe. 
Motor State Challenge
In July we attended our second Motor State Challenge and held by Motor State Distributing. This event we look forward to every year. The event is 3 days long and consist of a dinner cruise, track day and autocross at Gingerman Raceway in South Haven, Michigan. There are a ton of door prizes given away (we won $100 in gift certificates) and to participate was only $250, which included the dinner cruise. You can see all the photos from the event here.
Some of you might be a little timid about participating in a track day but events like these are to ease that worry. Everyone has to start somewhere and this event is a great one to do that. The event is very relaxed and inviting for everyone. If you need help, having car issues or need advice everyone around is more than eager to lend a helping hand. 
Your car will undergo a basic safety check which consist mainly of good tires, secure battery, mounted fire extinguisher, current snell rated helmet and no fluid leaks. You are not required to have a roll cage, full racing suit, tow hooks, etc. Although you can never have too much safety equipment, they are not necessary for this event. They split the cars into multiple classes ranging from pro to beginners. 
We took our 2013 Charger Daytona and once again we were the only Mopar in attendance. The car performed surprisingly well. With help from GForce Engineering, Hooker Headers, HP Tuners and Big 3 Racing the Daytona out performed our expectations. We could have used better tires but the 245/45/20s stayed stuck to the track and road very well. It was our first time driving the Daytona on the road course and we took it a little easy, but by the last session we started pushing the car a lot harder and it took it.
Northeast Musclecar Challenge
In August we got Orange Crush out of the garage and back on track at the Northeast Muscle Car Challenge. The event takes place at Pittsburgh International Race Complex in Wampum, Pennsylvania. The event is three days long and consists of a day of road course racing followed by two days of autocross. Our favorite part of this event is the food, they feed you lunch and dinner all three days. You can check out the Northeast Musclecar Challenge video here to see all the action. 
Tickets for this event were only $350 which might seem high but once you break everything down it is a bargain. The first day is the road course which can normally net you over an hour of seat time on the big track. The cars are broken up into four groups and run on the track for 15 minute segments. The next two days of autocross can net you a total of 30-40 laps. We get more than our fulfillment of driving by the end of the weekend. 
This is another great event to try your hand at racing around a track and cones. The people and sponsors make the event a joy to be apart of. The food is amazing all weekend and your surrounded by some incredible car builders and companies that are all ready to lend you a hand if needed. Even though we were once again the only Mopar, everyone treated us like we were part of the family.
Orange Crush ran well all weekend without any major issues. Our Classic Dash worked awesome and displayed all the information we needed. The new clutch, shifter and throwout bearing from American Powertrain worked flawlessly. The suspension from Reilly Motorsports continues to perform awesome along side our Flaming River rack and pinion and our front runner Wraptor kit from CVF. We met a lot of great people and some even commented on how much they liked Orange Crush and wish they would see more Mopars in attendance. 
Cruising The Smokies (Autofest)
Early October we attended our last event, Cruising The Smokies in Kodak Tennessee at the Smokies Stadium. This was part of the Great Smokey Mountain Auto Fest car show that is held over two days. Cruising The Smokies is the autocross part of the show although it used to be a separate event in the past. Our friends American Powertrain and Silver Sport Transmissions were both sponsors of the event. 
We have attended multiple Cruising The Smokies events and it is always a blast to attend. We caught up with some great friends that we only get to see a couple times a year. Unlike some of the other events, we had a couple other Mopars show up for this one. We still wish we saw some more though.
Not only is the event fun but there is a lot of fun stuff to do around the area. Pigeon Forge and Gatlinburg are right up the road and packed to the brim with stuff to do. Besides eating some killer food, our other favorite thing to do is hit some of backroads, particularly Tail Of The Dragon. 
We took some time off from the autocross track to tackle the Tail Of The Dragon. We were joined by a couple friends Saturday morning. If you have not heard of the Tail Of The Dragon it is a very popular road for driving enthusiasts of all kind. The stretch of 11 miles is littered with 318 curves with elevation changes up and down. It is a dangerous road and should obey all traffic laws when driving the road. Trust us even at 35mph you will have a ton of fun driving the Tail Of The Dragon. 
During the drive down the Tail Of The Dragon you will notice a few photographers sitting on the side of the road, like US129 Dragon Photos. They strategically set up on specific curves to capture the best angles of your ride. Our favorite photos were shot by 129Photos. They snagged some awesome shots of Orange Crush as we drove by. The pictures give you an idea of the curves but not quite the full effect of how extreme the curves on Tail Of The Dragon are.
After running the Tail Of The Dragon both ways we headed back to the autocross for the rest of the day. We took some time to check out the Death Metal Charger at the Silver Sport Transmissions booth. It is equipped with a Silver Sport Transmissions T-56 Magnum 6-Speed PerfectFit Kit. The Charger is rusty, crusty and full of awesomeness.   
Over at the autocross course we chatted with the guys at American Powertrain. We recently installed a few of their parts in Orange Crush and have been very happy. Properly alining our bell housing and use of their Hydra-max kit help cure some vibrations. We have some plans for Orange Crush over the winter and will need some help from American Powertrain once again.
We had a few hours to think back over the entire season as we traveled home with Orange Crush. The season is never long enough but we can say that we had a better season that last year. We cured a few issues and continue to improve Orange Crush's performance with help from all of our sponsors.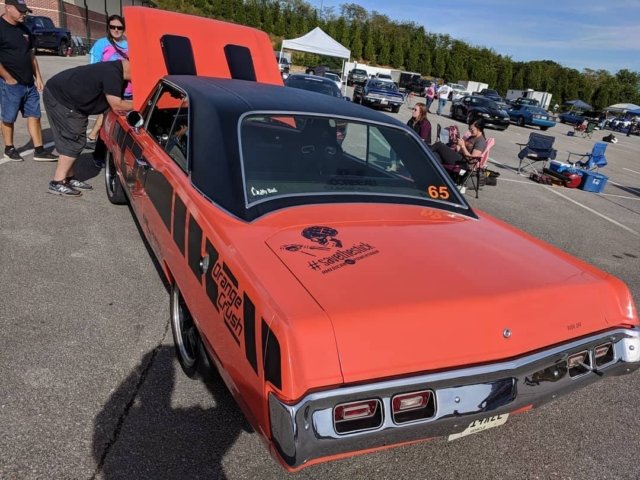 Looking forward to next year we have a few upgrades planned over the winter. The biggest is more power and we think you will like what we have planned. With continued support from American Powertrain, Reilly Motorsports, CVF, Classic Dash, AutoMeter, Flaming River, Edelbrock, and hopefully a few others, Orange Crush will be better than ever next season. 
Outside of Orange Crush, we really hope to see a couple more Mopars attend the above events. Although we still enjoy the events, we want to see more Mopars along side us tearing up the track. Orange Crush is tucked away for the winter but will be better than ever for next year's events.