Everyone probably know that the SEMA Show is the biggest aftermarket show displaying incredible builds and new products. Many of us probably have not taken a step back to really understand what SEMA or Specialty Equipment Market Association really is.
SEMA was founded in 1963 when a small group of manufactures got together. They were suppliers of performance equipment at the time and originally called it "Speed Equipment Manufactures Association". Over the years it changed to Specialty Equipment Market Association so it was more inclusive to all parts of the business distribution chain.
As SEMA grew and more companies from all different kinds of automotive segments, SEMA created multiple councils to help give members a more specialized benefits that pertains to their specific part of the industry. One of these councils is Hot Rod Industry Alliance (HRIA).
HRIA's primary objectives are to ensure the future prosperity of the hot rod industry and to advance and promote awareness of the hobby. Like many of us, we do not want to see the hot rod industry die. This council is dedicated to the hot rod industry specifically and focuses on issues that the hot rod industry faces.
One of the awards that HRIA gives out is the HRIA Business of the Year award. This year our good friends at QA1 received this award, and it was very well deserved. QA1 is entering their 30th year of business and has always focused on quality, affordability and customer service.
QA1 also created the #goDRIVEit movement to help encourage hot rodders to get back on the street and enjoy driving their cars and trucks. You can read about all the details of the HRIA award in QA1's full press release below.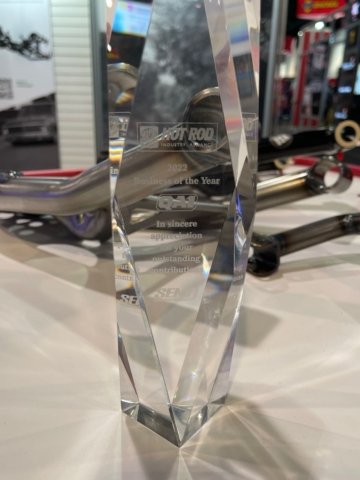 QA1 Awarded Business of the Year at the SEMA Show

November 8, 2022
HRIA, a SEMA council dedicated to the future prosperity of the hot rod industry, selected QA1 as Business of the Year from  its member companies, representing many industries ranging from retail, manufacturing, distribution, publishing, and more. Presented to QA1 at HRIA's annual banquet at the SEMA show on November 2nd, this prestigious annual award recognizes a company that has made an exceptional contribution and has had a positive impact in the hot rod industry.

"On behalf of the entire QA1 team, we are truly honored and appreciative to the HRIA for this recognition," says Melissa Scoles, QA1 President and CEO. "As we enter our 30th year, this award reinforces our guiding principle of developing high quality, affordable products and enhancing customer experiences".

This award highlights QA1's decades-long commitment to the industry and to its values. Founded in 1993 and now entering its 30th year of business, QA1 has focused on quality and affordability as the number-one priority and a backbone to all its functions: USA-made products, service and support. With an emphasis on innovation and new product development, the QA1 culture continuously evolves the way it solves problems for customers.

QA1 was "nominated because of the impact they made in their Customer Service operations," says Danny Agosta, HRIA Select Committee Chair. "They work closely with builders, getting things set up, customized applications, etc. and it's a level of service that is unfortunately rare today".

In recent years, QA1's creation of the #goDRIVEit movement has encouraged hot rodders and street cruisers to go out and have fun with their vehicle. By supporting and facilitating numerous events around the country, the foundation of the #goDRIVEit movement is one of collaboration and enthusiasm – and is just one of the many ways QA1 has contributed a positive impact for the industry.