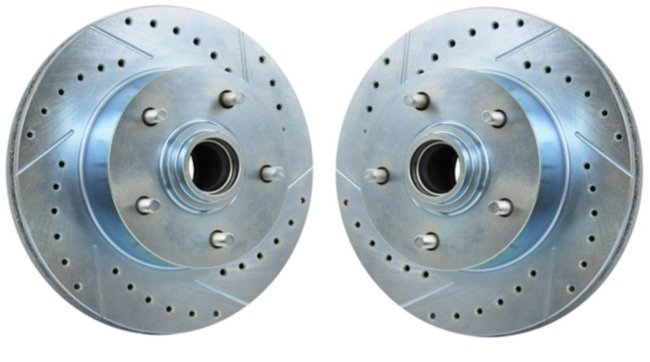 The end of that quarter-mile drag strip comes on real quick. If you're still running factory brakes, chances are the sand trap at the end of the pavement has come into focus a little too clearly more than once. Without a doubt, Mopar disc brake systems from Kelsey-Hayes, Budd, and Bendix were a step in the right direction when it comes to the big pedal, especially when compared to four-wheel drums of the 1960's. Fortunately, technology has progressed even further since then as disc brakes continue to be prevalent both in OEM and performance applications.
YearOne's new cross-drilled and slotted 11" rotors (BN144CDP) are perfect for 1966-1969 B-body cars that are in dire need of more slow-down. The one-piece design of these performance rotors eliminates the vibration that can come from older two-piece styles. Right-handed wheels studs are already installed so you don't have to worry about pressing new in. Installation is as simple as they can be used with the original Bendix or Kelsey-Hayes 4-piston calipers.
If your front discs are just in need of a basic refresh and your application doesn't demand all of the cross-drilled and slotted jazz, check out their factory-style replacement rotors (BN144P). These are also made for '66-'69 B-bodies with 4-piston calipers and are the improved one-piece design. Of course, YearOne can complete the rest of your brake system as well with a wide range of calipers, pads, brake lines, bearings, and seals. Visit YearOne or give them a call at (800) 932-7663 for more details.