When the Dodge Super Bee was announced for the 1968 model year, it was designed to be a relatively stripped down "bang for your buck" muscle car; Dodge's version of Plymouth's Road Runner. Based off the two door Coronet "B-Body" platform and featuring a 383-4bbl Magnum engine as the standard equipment, the Super Bee proved to be a popular seller with 7,841 units delivered to the U.S in 1968, 26,563 in 1969 and 14,137 in 1970.
For 1971, gone were the muscular two-door Coronets. Instead, the Coronet became a homely name plate that offered strictly four-door sedan and station wagon formats. To keep the performance Super Bee namesake alive, Dodge looked at the only two-door B-Body they now offered; the Charger. It was decided that for 1971, the Super Bee would become a trim package on the Charger. With a base price of $3,271 U.S (compared to $3,777 U.S for the R/T), the 1971 Dodge Super Bee still retained it's fantastic "bang for your buck" offering and 5,054 units were delivered to U.S dealerships that year.
This particular 1971 Dodge Super Bee rolled off the assembly line in Los Angeles, California on October 30th, 1970. Built as a Y14 code special order (sold) car, this Super Bee came painted in vibrant FJ6 Green-Go with black interior, black longitudinal stripes and a full black vinyl top. Under the hood sat the standard E65 code 383-4bbl Magnum engine backed by the D21 code A-833 4-speed manual transmission with the legendary Hurst Pistol Grip shifter. Out of 2,889 383-4bbl Super Bees built for the U.S in 1971, only 766 came with the 4-speed.
The car was fairly optioned out with the A04 Charger Radio Group (which included the R11 Music Master AM radio and S77 power steering), A62 Rallye instrument cluster (standard on the Super Bee), B51 power brakes, C16 center console, C55 bucket seats, D57 3:91 rear axle ratio, G11 tinted glass, G31 and G33 dual chrome racing mirrors, J45 hood pins, N41 dual exhaust, N85 tachometer and W23 14" road wheels.
Once it left the Los Angeles plant, it was shipped to Swift Dodge in Sacramento, California to be picked up by its new owner. In 1973, the Super Bee would make its way across the US to Florida where it was registered there. It was re-registered in Florida again in 1989 so it would be assumed it spent the better part of the time in between in the "The Sunshine State."
Around 1999, the custom Florida license plates stating "SPRBEE" expired and the following year, it ended up in Toledo, Ohio where a gentleman from Texas purchased it. By this point, the Super Bee appeared to have had a fairly recent paint job. The new owner however did find some rust under the vinyl top around the windshield so he had it repaired and replaced the vinyl top. In September 2002, "1971 Super Bee expert" John Bober purchased the car and brought it back to Florida.
Shortly after, Gary Grubbs from Florida entered into the car's life. Gary tells us, "I'm a big Super Bee fan as I purchased a turquoise 383 4-speed Super Bee brand new in 1968 and purchased a 1971 Hemi 4-speed Super Bee brand new from Mr. Norm's Grand Spaulding Dodge. Over the years, I also owned a Plum Crazy 1971 383 4-speed Super Bee."
He continues to say, "I first saw this car sometime in 2003 or 2004 after John purchased it. I kept drooling over it every opportunity I had, hoping that one day I could maybe own it. Back in May 2019, during a conversation between John and me, he explained to me that he was working on purchasing a 1971 Hemi Super Bee and that if I wanted the FJ6 car, he would sell it to me. I jumped on the chance and bought it."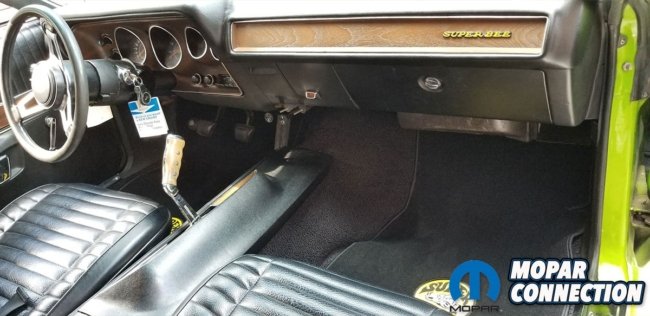 Gary explains that besides the rust repair that was done around the windshield, all of the panels and sheet metal on the Super Bee are original and show absolutely no evidence of ever having damage or rust; something that is fairly uncommon in a car that has spent a fair chunk of its life around salt water air. With the exception of the front carpet, the interior is all original as it rolled off the assembly line in October 1970 and with the exception of the clutch, all of the drive train components are original as well!
He says, "In my 60 plus years of beating on, building, buying, selling, lusting over, and generally having a love affair with all automobiles, this 1971 Super Bee is the most original, undamaged 49 year old car that I have ever seen. I did not purchase this car to put in a temperature controlled garage to visit on occasion. I purchased it to drive, enjoy, and take to local car shows. That is precisely what I am doing with it and it is a pure pleasure to drive. I might add that it has received "best of show accolades" at most of the shows I have attended. I do not plan to be buried in it but do plan on enjoying it as much as possible until that day comes."