In the past decade, Holley has made quite the name for themselves as event promoters. Even if you're living under the heaviest rock, chances are you've heard that LS Fest is not only a massive event, but it's also a heck of a lot of fun too. Add to that Holley's Ford Fest, which is far more recent but picking up steam as well, and you've got a one-two punch for domestic muscle enthusiasts from one of the biggest brands in the world. So of course, the question arises, "How about us Mopar guys?"
Well, that's where things get a little interesting. No doubt you've seen the avalanche of new go-fast parts and products coming in for the late model and classic Mopar muscle market from Holley. We at Mopar Connection Magazine can solemnly testify that Holley is pouring a whole lot of money into developing parts to make G3 Hemi swaps immensely easier, tuning the most out of your 5.7L or Scat Pack 6.4L Hemi, or simply helping your old school low-deck 383 B-body roast those tires a little while longer.
And now, for the super-observant enthusiast, we've got a treat for you. If you venture over to the Holley website and click on the "News & Events" section, you'll see a listing for "Mopar Event." Clicking on it will take you to a single screen featuring this image. While there's not a whole lot else to soak in, the banner advertisement does include some juicy details. Scheduled for this coming September 18-20th, Holley has secured the Beech Bend Raceway Park in Bowling Green, KY for the weekend.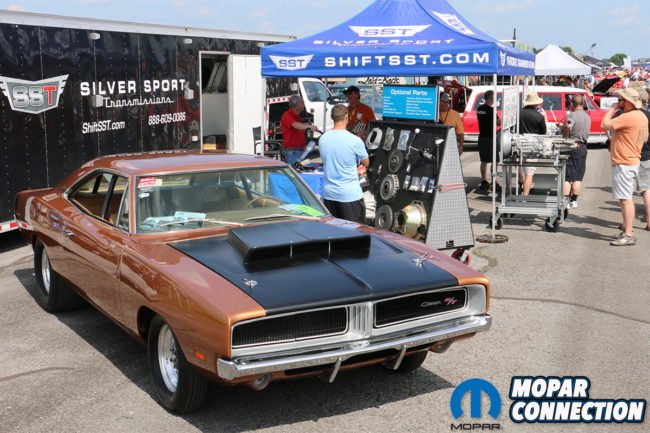 Next, Holley teases that the All Mopar Event weekend will feature drag racing (of course), autocross, a show-and-shine field, an insane "Aussie-style" burnout contest, a dyno challenge and a whole lot more. You'll also notice the "Fish Tail" '70 'Cuda owned by "Hot Rod Garage" host Tony Angelo, who is expected to make an appearance, and Geoff Turk and his insanely fast, 7-second Dodge Challenger "Blackbird." We also know that Muscle Car Place podcast host Robert Kibbe and his General Lee will be present too.
Of course, Mopar Connection has been "in" on the early stages and even made a few suggestions to keep the action going all weekend. We're going to have our own booth (a first for us!) featuring a handful of our project cars. You'll be able to paw all over Brazen, our 1969 Dodge Charger R/T; Orange Crush, our killer autocross '72 Dodge Dart Swinger; and Comeback 'Cuda, our extraordinary '70 Plymouth Hemi 'Cuda convertible 4-speed clone. And all of us at Mopar Connection Magazine will be on hand to answer questions and hang out together!