For a number of years Jeep has used Easter Jeep Safari as a showcase, and proving ground, for a round of new concept vehicles. Since EJS is first and foremost an off-road based event, Jeep has always made an effort to bring trail-suited concepts that can go on rides throughout the week with other Jeep enthusiasts from all around the world.
Admittedly, these concepts have not proved to be the workings of future full production Jeeps, but they have been examples of how the Jeep designers, builders, and engineers are true fans of Jeep though and though. We are happy to announce that this year Jeep has not disappointed, coming out with perhaps the most impressive line of concepts to date.
Starting with the concept we would most like to own; the Jeep Trailcat is undoubtedly the most radical Wrangler Jeep has ever made. The Trailcat boasts a familiar 707 horsepower supercharged 6.2 liter Hemi Hellcat motor. Paired with the massive motor is a satisfying 6 speed manual transmission and likely has the Rubicon's 4 to 1 transfer case. Jeep could have easily gone for a street rod approach and kept the jeep low and with small tires but we are happy to see they chose Mopar Dana 60 axles and 41 inch BFG blue label Krawler tires. With a stretched wheelbase, fox shocks, and a fastback roll cage the Trailcat is a force to be reckoned with.
As homage to the past, Jeep has created the FC 150. They took a 1960 Jeep Forward Control and likely restored the body completely before placing it on a lightly modified Jeep JK Wrangler frame. The new chassis means this FC has coil sprung suspension and makes way for a reasonable 33 inch tire pushed by Dana 44 front axle and Dana 60 rear.
Perhaps the most controversial Jeep concept we have seen yet is the Jeep Comanche. This concept is based on the latest Renegade model and features independent suspension front and rear. This is a far cry from the original Jeep Comanche pickup truck that has become something of a collector's piece among off-roaders. With the cons out of the way one can focus on the fact that this Jeep is very good looking, incorporating a rugged tire, body armor and "Beige Against the Machine" paint. Featuring a five-foot bed and incorporated winch mean this truck is a very usable concept.
The Jeep Renegade Commander is our bet as the concept most likely to see production in the coming years. It is a mildly upgraded Renegade model featuring Jeep JK 17 inch wheels and 29-inch tires. While 29 in tires are not normally something to brag about, under the Renegade Commander's 2-inch lift this wheel and tire combo looks excellent and makes this new concept a functional and great looking little Jeep.
The Trailstorm concept is an attention grabber right away with the Moab inspired digital camouflage wrap. The Trailstorm is the concept that buyers could very realistically own as it is a JK Wrangler that features many of the Mopar Performance Accessories. The accessories include half-doors, high-top fenders, winch guard, big brake kit, rock rails, tire carrier, and steel bumpers. Showcasing Mopar accessories is a major part of the concept vehicles purpose and we love seeing Jeep and FCA (Fiat Chrysler America) embrace the aftermarket demands.
The Shortcut is an excellent example of less is more, a concept that has defined Jeeps since the beginning. The Shortcut bares obvious resemblance to early Jeep CJ's with its shortened wheelbase, modified grill, simple and rugged bumpers, and classic steel smoothy rims. This concept does not lack ruggedness either, being essentially a Rubicon underneath with Dana 44 axles pushing 35 inch BFG KM2 tires.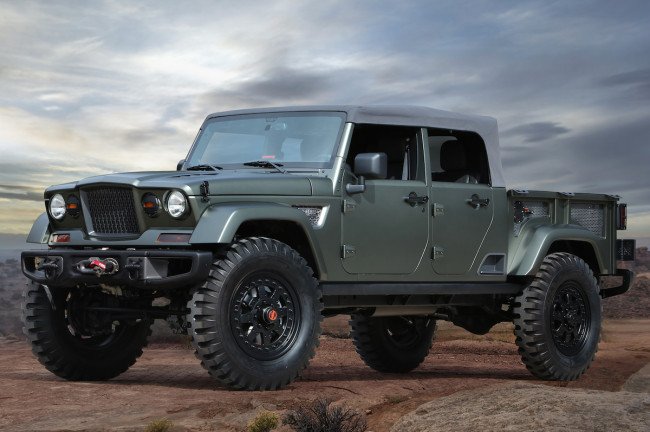 While we did say we would rather own the Trailcat concept, if the 707 horsepower motor were set aside the Jeep Crew Chief 715 would be our pick. This is the most aggressive looking concept and likely the most useful that Jeep unveiled. This truck screams utility and ruggedness. These characteristics come from the Kaiser M715 that the Crew Chief 715 is paying tribute to.
This new concept however, boasts utilities that the Kaiser never had, including; 4 doors, leather seats, fuel injected Pentastar V6, fox shocks, and Wrangler inspired coil sprung suspension. With military capabilities in mind the Jeep Crew Chief 715 receives Dana 60 axles, 40-inch tires and huge 20-inch bead-locks.