Edelbrock; it's one of the most recognizable names in the automotive industry. The company was founded in 1938 by Vic Edelbrock Sr. when his desire to increase the performance of his 1932 Ford Roadster led him to design a new intake manifold; nicknamed "The Sling Shot." After installing the new manifold onto his '32, Vic took it to a testing ground at the Rosamond Dry Lakes and ran a 7.41 second pass at 121.45 mph in the flying quarter mile; breaking a national speed record. Seeing what Vic's manifold could do, his friends and fellow drivers soon wanted one as well. This single intake manifold transformed Vic's automotive repair garage into a parts manufacturing enterprise, making one-of-a-kind performance parts.
During World War II, Vic's machinist skills were put to work welding and hand fabricating aircraft parts in the Todd Shipyards in Long Beach, California. Even with a ban on auto racing during the war by the Office of Defense Transportation, Vic secretly designed and developed a new line of products after hours. After the war was over, Edelbrock released a line of aluminum racing cylinder heads, as well as other intake manifolds. From there, business kept growing and growing. In 1946, Edelbrock released their first catalog, titled: Edelbrock Power and Speed Equipment. In 1958, they broke into the Chevrolet, Pontiac and Chrysler markets with their performance intake manifolds. Previously, they had only made products for Ford, Lincoln and Mercury vehicles.
Otis Victor "Vic" Edelbrock Jr. was born in August 23, 1936 and started working at his father's shop during the summers at the young age of 12. "I was making $2 a day and I thought I was really living," says Vic Jr. in a past interview. After graduating from Dorsey High School, Vic attended the University of Southern California thanks to a football scholarship. As a member of the Delta Tau Delta fraternity, he graduated from USC with a degree in business in 1958. Vic met his wife Nancy Crook in his senior year during rehearsals for the Songfest charity show at the Hollywood Bowl. She was a member of Kappa Alpha Theta. They were officially engaged on Christmas in 1958 and married at Our Savior's Chapel at USC on March 21, 1959.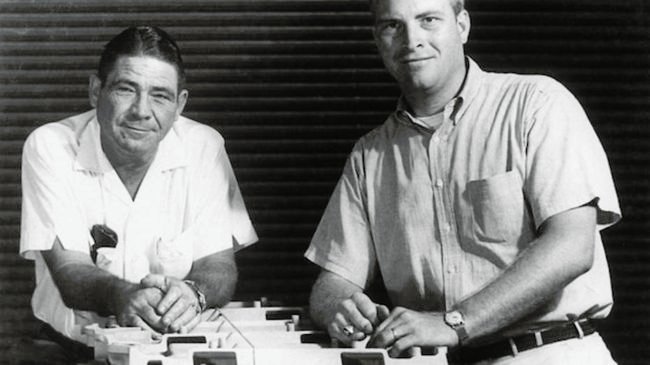 Vic soon joined the Reserve Officers' Training Corps with the hopes of becoming a fighter pilot. He was scheduled to graduate second lieutenant and had been accepted to flight school. It's said after Congress passed a law making it mandatory to serve five years to earn combat wings, instead of three years, Vic gave up his dream and went back to helping his father run the family business full time. It proved to be a good choice as three years later in 1962, Vic Sr. was diagnosed with a form of inoperable cancer and only lived for another four months before sadly passing away at the age of 49. "He had no chance," said Vic Jr. "Four months later he left us."
The passing of his father left then 26-year-old Vic Jr. in charge of the company as CEO and president of Edelbrock Corp. as he received it in his inheritance. At the time of his father's passing, the company had just 10 employees with annual sales of $450,000, and $200,000 tucked away in the bank. Many would have blown it all in a couple of years and it's been said some expected Vic Jr. to do just that. However, Vic Jr. was raised better than that and set out to make his father proud. Not only did he keep the company going but over the next half century would build it into one of the largest performance parts empires in the world. In carrying on his father's legacy, Vic Jr. reshaped the industry, becoming devoted to designing and manufacturing the highest-quality parts he could; for both the automotive and motorcycle markets.
In 1965, Vic Jr. stepped up Edelbrock's game when Bob Joehnck, who had been a close friend of Vic Sr., called him with a suggestion. In a past interview, Vic Jr. stated, "He said make a manifold for the small block Chevy. I said to him; they already make one. He replied saying, 'Trust me, make one.' So we made one." That moment was huge for Edelbrock as their small block Chevy manifolds soon became the foundation that shot them into icon status. It was these manifolds that led to a relationship with Holley carbs; which in turn led to even more parts for their catalog. This relationship played a big part in the late '60s Mopar world, as they teamed up with Chrysler for the 440 Six-Pack powered 1969 1/2 Super Bee and Six-Barrell 1969 1/2 Road Runner. "Bob Cahill from Chrysler product planning came to me with a print layout of the manifold (for the 440 Six-Pack) they wanted and he asked me to make 1,500 aluminum intakes for the first Six-Pack cars (that were built and sent to dealerships)," recalled Vic. He even ordered an early run 1969 1/2 Super Bee, which he owned for 7 years.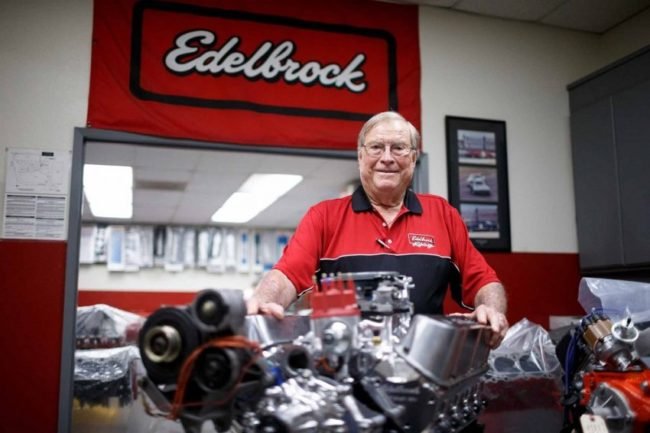 In 1968, Vic Jr. would finally earn his wings when he got his private pilot's license after renting Bob Hedman's (of Hedman Headers) airplane so he could learn to fly. He would serve as the president of the Specialty Equipment Market Association (SEMA) from 1971 to 1974 and was on the board of directors from 1967 to 1989. Edelbrock continued to grow in the 1980s and 1990s as Vic he moved the company into a new direction and extended its branches with different product lines that included carburetors, camshafts, valve train parts, exhaust systems and engine accessories; just to name a few. These new product lines allowed the company to become huge in the street and restoration markets. They extended their catalog even more, offering new high-tech shocks and heavy duty suspension parts to the off-road world.
In 1988, Edelbrock opened their brand new aluminum green sand Edelbrock Foundry Corp. facility. This new facility was the key to keeping the company self-sufficient as they could control the quality of their aluminum castings and do everything in house. "Our aluminum castings are very important to us because there are so few foundries in the United States that can supply us with the type of castings that we need," Vic said in an interview for a 2000 article in the Daily Breeze. "We want to control our own destiny." Vic truly built the company into the multi million-dollar enterprise it is today; with its own development labs, ad department and assembly lines employing 700 people in three shifts. His dad sure would be proud!
In 2004, it's reported the annual revenue of the company exceeded $125 million. Vic served as president and CEO of the company until 2010 when he stepped down to focus more on his passion for racing cars and boats. However, he stayed on as chairman of the board and had a heavy hand on everything that happened within the company. "I've played football at USC, raced ocean boats and ski boats, but I've never felt anything like the adrenaline rush I get in a race car," Vic once said. Today the company produces over 8,000 different performance parts and has five locations, including four in Torrance, California. These consist of its headquarters, a distribution center and museum, the Russell division (which also houses the shock manufacturing center), the exhaust plant and its foundry is in San Jacinto.
Unfortunately on June 9th, 2017, it was announced Vic Jr. sadly passed away in his Rolling Hills, California home at the age of 80. The following is a release from Edelbrock: "It's with deep sadness that we announce the untimely death of our visionary and leader Vic Edelbrock Jr. Vic passed away this evening from complications following a recent cold. His passing was peaceful and in the company of his closest friends and family. The Edelbrock Team sends their deepest condolences to his family and will always hold him in our hearts." Rest in peace Vic. Thank you from all of us at Mopar Connection Magazine for your huge contribution to the automotive world. It wouldn't be the same without you and your father.