As we've mentioned in the past, the 1970 Dodge Coronet and Super Bee is a love it or hate it type of design. Many die-hards love it while many hate it. Dean Parker of New Jersey is proud to say he absolutely loves the design and it shows with his beautifully restored 1970 Dodge Super Bee.
When Dean purchased his Super Bee back in 2010, it had seen a lot better days. It had truly lived a hard life and the rust bug was biting it bad. "I found the car locally on Craigslist for $6,300 around 2010. I answered the ad and drove about 5 towns over to look at it. The gentleman who I bought the car off of claimed he had picked it up locally just a year or two previous. The car was a complete running and drivable car and was very original and very complete but in desperate need of its first restoration. He told me himself and his brother-in-law drove it for about a year; mostly to cars shows to display how original the car was still. After a while, the transmission went and a decision was made by them to start dis-assembly for a full restoration," Dean says.
He continues to say, "They did a fantastic job taking it apart; labeling and bagging every nut and bolt. After they had it stripped down to the shell, they were able to see the cancer and got a full idea of just how much metal work was needed. The car suffered from all the common Mopar problems. The trunk area was pretty rusty, as well as the front floor pans, quarter panels, rockers, rear frame rails, front fenders, bottom of both doors, rear tail light panel, trunk lid, filler panel beneath the rear window, wheelhouses, and trunk gutters; it went on and on! I truly believe the owner bit off more than he bargained for at this point and decided to cut his losses and sell it."
"When I looked at the car, it was just as described; a big project. The amount of metal work it needed kind of scared me at first but as I looked through the boxes of parts and really started to examine it farther, I realized that not only was it all there but this car had retained about 95% of its original parts over the years; including the numbers matching drive train. When I decoded the car, I found out the Super Bee was a 383 Magnum and column shift HD 727 Torqueflite automatic car painted FY1 Top Banana Yellow with a black vinyl top, black interior and black C-stripes. It came equipped with a 3:23 geared Suregrip 8 ¾ rear end, bucket seats, N96 RamCharger fresh air hood, clock, power steering, A.M radio, wood grain steering wheel and road wheels," explains Dean.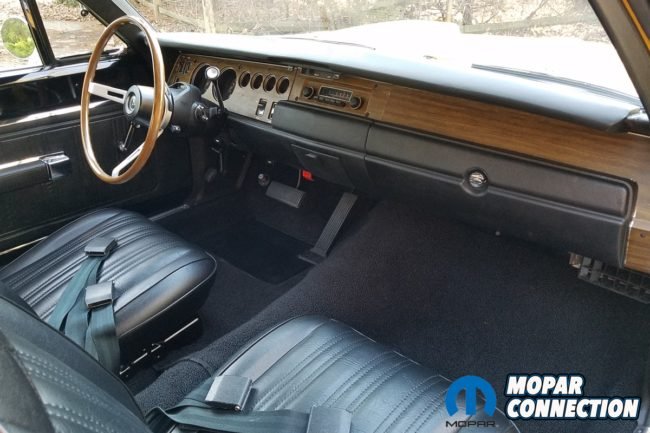 Once he got the Super Bee and the multiple boxes of parts home, he got right to work. First, he cut out the rusty rear frame rails and started replacing metal. Once he had the replacement frame rails in, he installed new quarter panels, wheelhouses, floor pans and repaired the rockers. He tells us that if he couldn't buy it or find it, he made it. After a year, the metal work was only about 40% complete when the project fell to the side for about another year after that.
Around 2012, Dean got back at it and did the metal work on the doors, fenders, trunk lid and hood. It was around this time that he lost interest for another 3 years and the car was once again put to the side; however Dean says he still collected parts that he needed in the mean time. In January 2016, Dean got a burst of desire to finish the car. He tells us, "I finished all of the major metal work and then sent the car out to be sandblasted. Once I got it home from blasting, I then finished all the minor metal work that was needed. Next, I did the body work and then pushed it outside and primered it. It was finally time for paint. I put the car on my two post lift and painted the bottom with single stage FY1 Top Banana Yellow paint, followed by the trunk and engine bay. With that complete, I sent the Bee out to have the rest painted by a friend of mine."
Dean continues to say, "While I waited for the paint work to be completed, I sent the engine, transmission and rear end out to be rebuilt. After I got the car back from paint, things really started to come together fast. With the exception of the drive train and exterior paint, I basically restored every component myself. I did have outside help with the wiper motor and upholstery but everything else was done right in my garage. I restored all of the original parts in their proper finish. If something was missing or not restorable, I bought either NOS or the highest quality aftermarket parts available. However, the car does retain 95% of it's original parts as mentioned."
"Books such as the "The B-Body Restoration Guide" (written by our own Editor-In-Chief Kevin Shaw and Technical Editor Mike Wilkins – Ed.) really came in handy! I dealt with a lot of fantastic vendors and people such as Frank Badalson, Classic Industries, R/T Specialties, Tony's Mopar Parts, Rick's Restos, YearOne, Jim's Mopars, Bill Rolik, Legendary Interiors, ECS, TP Tools, Eastwood, Herb's Parts, Restoration Battery, Chris McGinnis, Smitty's Upholstery and Gary Plowman. Just this past January, I finally drove the finished product out of my garage. I really want to let the other car hobbyists out there know that professional quality restorations of our Mopars can be achieved right in your own garage; you have just got to want it!" says Dean in closing.