It was the winter of 2006-2007 and Joe and Kathe Palka from New Jersey started working on a plan to find a project car that Joe could restore with his son, Bill. Something the father and son duo could work on and restore. The project would be a great way to teach Bill how to work on cars and eventually the pair could enjoy driving it together.
Although Joe grew up around Mopars, having owned a 1966 Plymouth Valiant as his first car and a number of Mopars afterwards, he was interested in doing a mid-sixties C2 Corvette. Joe tells us, "I asked Bill how about a 1965 Corvette roadster? He didn't like them though. They just weren't his thing. When I asked him what kind of car he was interested in, he mentioned a Challenger. It was around this time that the new 2008 Challenger SRT8s were introduced so there was a lot of roar around them. He really liked them but obviously we couldn't restore one of those so instead, we looked for a classic Challenger."
He continues to say, "While I love my Mopars, I've never been a huge fan of the high-impact colors such as FC7 Plum Crazy Purple, FM3 Panther Pink or GY3 Citron Yella. Instead, I preferred the more normal colors like blues and black. We agreed that we'd find a blue or black Challenger; either a T/A or a big-block such as an R/T."
At first, Joe found a nice, complete, numbers matching '71 Challenger 383 car but Kathe thought it was too nice. In March 2007, Joe came across a 1970 Challenger R/T project for sale in Arkansas. Joe decoded the fender tag and learned that it was an original R/T with a 440-4bbl and 727 Torqueflite under the hood. It came from the factory in B7 Blue with a black vinyl top, black interior and optioned with the Rallye instrument cluster, hood pins, dual exhaust with chrome tips, power steering, bucket seats, center console, SE molding package, A/C and power disc brakes. Apparently, the person who ordered it wanted to go fast, but in a civilized way. The Challenger was a solid restoration candidate, even with the original 440 missing and a 383 sitting in its place.
Joe says, "I spoke with the seller quite in-depth since he was out of State. He sent me a bunch of pictures of the car showing the condition and all of the flaws. He assured me that it would be an easy restoration since he was in the classic car restoration business so we pulled the trigger. A couple of weeks later, the car arrived with no surprises. He did a good job in representing the car's true condition." With the car at home, Joe and Bill got to work. While most people would tear the car apart right away, the father and son decided to skip that step until they had found a proper body shop to do the body and paint work on it. Until they found one, they worked on going through the parts to see what was missing or not usable and started purchasing the needed parts.
That July, the duo attended the Chryslers at Carlisle show to check out the show cars and search for more parts for the Challenger. "It was an absolute scorcher that day. We were very hot from walking around in the sun so for a few minutes of shade we went under a tent where a '69 Charger and two '68 GTXs were on his display. We got to talking to one of the guys under the tent and learned his name was Brian Semancik and that he owned a body shop called Speedo's Paint and Body in Staatsburg, New York. Brian showed us the Charger and GTXs he had on display and we were blown away. The quality of work on them was flawless. We mentioned we would be interested in talking to him about our project Challenger, to which he said he would come to our house, look at the car and figure out a price," shares Joe.
The next month, as promised, Brian came down and looked at the Challenger. A budget was discussed and it was decided to move forward with the project. It was decided that once the body and paint were complete, Joe and Bill would help Brian re-assemble the car at his shop. That October, Joe and Bill started tearing the car apart for body and paint, documenting everything and properly bagging and tagging all of the parts. Shortly after, Joe took the car to get media blasted; that's where things went sideways.
Joe tells us, "In the pictures the seller sent me, he showed that it needed a quarter panel, trunk floor and the floor pans needed patches; pretty typical Mopar rust repair. His pictures also showed that there were a few small rust holes in the roof skin from the original vinyl top. When the car came back from blasting, our jaws dropped. The roof skin was beyond repair; there were rust holes everywhere. The rear floor pans and the rear seat pan needed replacement. Additionally, the cowl was rotted out under the windshield corners. The one quarter had been hit and replaced at some point and the supposed "good quarter panel" was rotted too. It was bad! We later learned the car had sat outside for 20 years in the weather which explains a lot.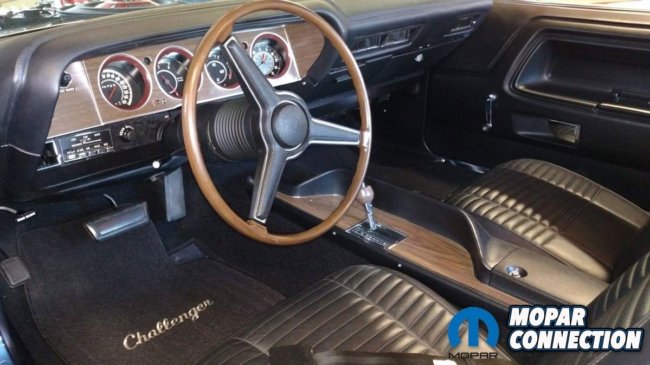 Despite the extensive rust holes, Joe and Bill proceeded forward and delivered the media blasted, epoxy primed shell to Brian's shop as promised. From there, Brian got to work replacing the quarter panels, wheelhouses, trunk extensions, tail light panel, dutchman's panel, roof skin, drip rails and floor pans to name some of it. Pieces that were not readily available Brian fabricated. With the body at Brian's shop, Joe and Bill got to work restoring all of the car's components and systems to OEM finish and specification. New wiring harnesses were purchased from Evans Wiring and Classic Auto Air rebuilt the A/C system.
The next step was the engine. As mentioned, the original 440 had vanished and a 383 was in its place. Joe says, "Thankfully, when the 383 was installed, a lot of the parts from the original 440 were swapped over including the exhaust manifolds, power steering pump, A/C components, cylinder heads, starter and alternator among other things. It was definitely helpful that they did that." Joe managed to find a good original 440HP block with a close date code on it that would work perfectly for the restoration. He also sourced out a proper intake manifold, distributor and carburetor for the 440.
With parts in hand, Joe dropped off the block and a truckload of parts with Ed Banach Jr at Eddie's Valve Grinding to get machined and built. A Comp Cam, Eagle crank, and a set of JE forged pistons were installed into the otherwise stock built 440. With the engine built, Joe and Ed fired the engine up on a run-stand to make sure all was good before Joe delivered it to Brian's shop.
By spring 2009, the body and paint were completed and Joe was hard at work re-assembling the car with Brian on the weekends. The car was finished and was driven to its first car show on Father's Day that June and eventually was debuted in the Speedo's tent at Chryslers at Carlisle the following month.
The main goal was to have the car judged in Dave Ferro's Standard of Mopar Excellence Judging Program at Carlisle in 2010. Of course, things never go as planned sometimes. Joe shares, "While loading the car up, I heard something making a really nasty noise near the back of the engine. I knew it wasn't good so the decision was made to leave the car at home as we didn't have time to take it apart to find the noise so we attended Carlisle that year without the car. I apologized to Dave Ferro of Totally Auto who runs the SME judging program and Ed Buczeskie of Carlisle Events for being a deadbeat. They were very sympathetic."
"After the show, I took it apart and realized that the flex-plate bolts had loosened up as I must have forgotten to put Loctite on them. I never made that mistake again! Once we had that issue sorted out, we started enjoying the car. Since finishing the restoration, quite a few miles have been put on it and we're proud to say the car has brought home a number of awards, has been featured in several magazines and was a NAPA Calendar feature car!" Oh, and Joe has added a 4 speed AAR 'Cuda to the collection and finally bought and restored that '65 Corvette with Brian Semancik.