During the Fountain Valley Classic Car & Truck Show we found a 1966 Dodge Coronet 500 painted in Panther Pink, with a white interior. This very same Mopar was also encountered during Mopar Night at the Garden Grove Car Show. Let's take a good look at this sweet '66 Coronet!
Terry Sprague has been a Mopar enthusiast since he was a teenager working at a Western Auto store, when a 1970 Moulin Rouge 440 'Cuda pulled in. Since then, the sixteen year-old Sprague became a Mopar enthusiast.
"I wanted an E-Body Mopar, but it was out of my price range," Terry recalled. "I was on eBay, and this '66 Coronet 500 painted in Panther Pink popped up. I made an offer to the owner, and he said that he would rather decline than take it", he added. The eBay auction ended as a no sale, and Sprague got a phone call from the car's seller, saying that he would accept the offer.
In October of 2018, Terry flew up to Centralia, Washington, where the car was located, and found that the seller had additional cars, including a 1966 Shelby GT350H Rent-a-Racer, and several other cars. Sprague was informed that the Coronet was being sold to fund the restoration of a 1959 Porsche 356 that was part of the collection. A deal was made, and Sprague had the Coronet shipped to his home in Southern California.
This 1966 Dodge Coronet is a resto-mod, meaning it's been customized, but restored with aftermarket parts. Starting off with the Panther Pink paint, which replaced the original green that was on the car when it was new. The wheels were replaced with the classic Cragar wheels, found on muscle cars, hot rods, and drag cars. Tires are modern-day Grand Am radials, which are common for most classic cars that are not restored to concours quality.
Headlights were replaced with modern items. The door lock buttons were topped with figurines of the famous Rat Fink, made famous by Ed "Big Daddy" Roth, along with the rivets on the license plate frames, which are also topped with the logo from Mooneyes. Additionally, a Coronet "Hemi Hood" scoop was added to the car.
The interior is correct for the 1966 Dodge Coronet, with the exception of matching Panther Pink seat belts, and floor mats with the name of the car, embroidered in the center. The center console is the classic metal console, found on all B Body Mopars. Sprague kept the original steering wheel and dashboard, as a classic touch to this '66 Dodge. The headliner is correct to what was in the car originally, with working interior lights. Also present is the tachometer, located underneath the dash, atop the center console.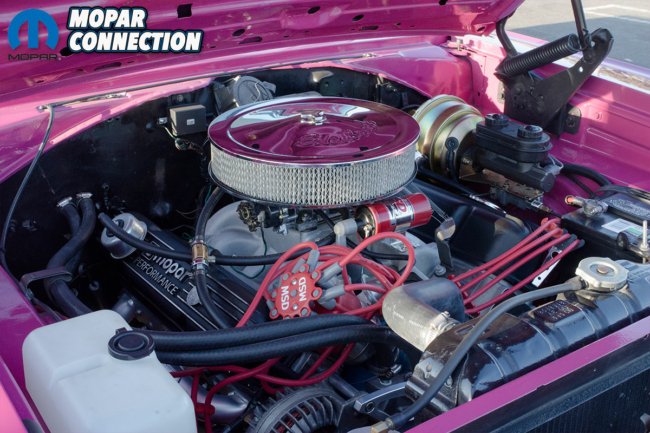 Underneath the hood, is the classic 440cubic-inch V8, found on the Coronet 500. The valve covers are from Mopar Performance. An Edelbrock Performance Kit was installed, along with an Edelbrock 850 carburetor, increasing the horsepower from 375hp to 475hp; even though the car was dynoed at 200hp. The car has a 727  automatic transmission, with a manual valve body. A new drivetrain was installed, with an 8 3/4 rear end with 3:23 gears. The top end of the car was gone through, and did not have any compression at all when he got it.
Terry Sprague is part of the Surf City Classics Car Club of Huntington Beach, California, run by Brian "Big Perm" Almas. On a Wednesday night, you can catch this classic '66 Coronet cruising down Main Street in Downtown Huntington Beach. Weekly coverage of Surf City Classics is provided by DanoLive on YouTube, showing each and every car that goes by. You can also catch Sprague and his classic Mopar every Friday night at the Garden Grove Car Show, held on Historic Main Street in Garden Grove, California. This is one heck of a classic Coronet with an amazing setup.