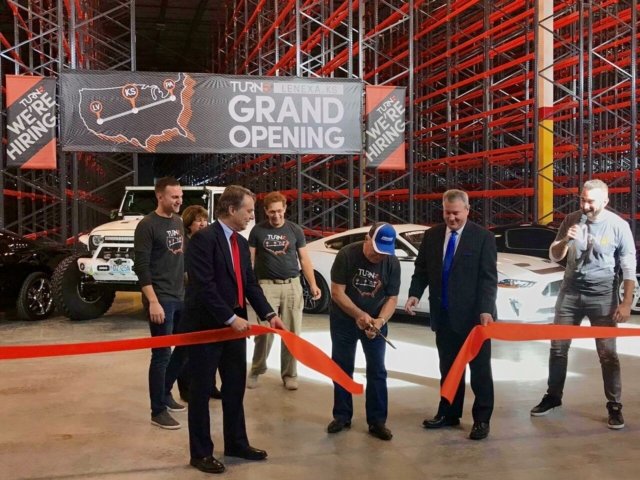 Turn5, the e-commerce retailer that provides aftermarket performance parts and accessories through AmericanMuscle, ExtremeTerrain, and AmericanTrucks, recently celebrated the opening of a 365,000 square-foot fulfillment facility in Lenexa, Kansas. Turn5 is dedicated to providing the best and quickest route to satisfaction for their loyal customer base. This new facility is a big step in that direction.
According to Turn5, the central location allows them to "decrease the length of delivery times by approximately 20%, assuring 2-day shipping for the majority of the continental United States." The term "central" is more than fitting as Lenexa is just 259 miles from the geographic center of the United States. With a population of more than 50,000 people, Lenexa is no stranger to big-time businesses calling it "home." In addition to Turn5, major employers include Amazon, Coca-Cola, and UPS, just to name a few.
On hand for the ribbon cutting ceremony were founders Andrew and Steve Voudouris, their uncle Caesar Millas, Jeff Colyer (Governor of Kansas), Michael Boehm (Mayor of Lenexa), and a number of other local Lenexa leaders.
Of course, the opening of the fulfillment center means Turn5 is looking to add to their staff that is already more than 400 employees strong. Career opportunities for the new Lenexa location and other existing facilities can be found on their website. Other locations include headquarters in Paoli, PA, a distribution center in Malvern, PA, a contact center in Pottstown, PA, production studios in Norristown, PA, and a distribution center in Las Vegas, NV.