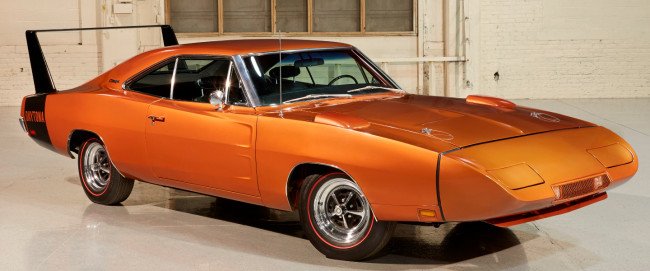 In the late 1960s, Dodge was fighting a losing battle with their Charger race cars in the NASCAR circuit. Desperate to get more speed out of the Charger was their top priority and they knew more horsepower wasn't the answer.
The Dodge engineers began testing and experimenting with the car's aerodynamics instead. After all, horsepower can only get you so far when you are fighting the wind. After months of work, the Dodge Charger Daytona was born. Featuring an 18-inch long pointed nose cone, a flush fastback rear window and a two-foot-tall rear wing spoiler, the Daytona looked completely outrageous, but it worked. Boy, did it ever!
The Daytona took the NASCAR racing circuit by storm, quickly winning it's first-ever NASCAR event before dominating the circuit the next two seasons. On a cold day in March 1970 at Talladega Super-Speedway, race driver Buddy Baker set a new world record with the #88 Daytona test mule; becoming the first stock-bodied car to crack 200 miles-an-hour on a closed course!
Now looking back at the aerodynamic set-up of the 1969 Charger Daytona, it's surprising to report that the actual down force and drag figures have really never been properly measured—until now.
Recently, AutoFocus.ca teamed up with the University of Ontario; Institute of Technology to use their ACE Speed Lab wind tunnel to finally test the true aerodynamic marvel that was the Charger Daytona. To further their testing, they also ran wind tunnel testing on a 1969 Dodge Charger R/T Hemi and a 2015 Dodge Charger SRT Hellcat.
https://www.youtube.com/watch?v=QfMwD6SffAo