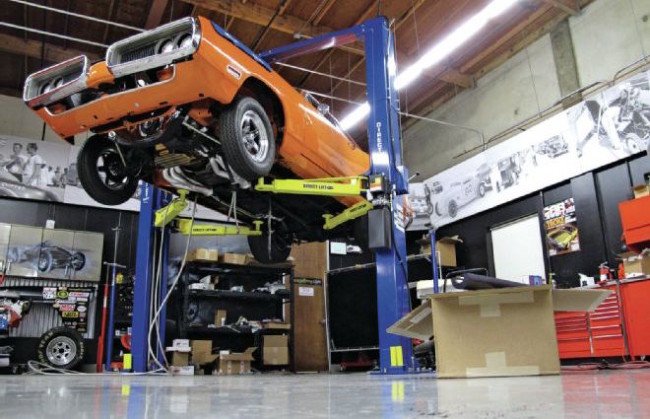 Above: *Gasp!* Yes, that's Hot Rod Magazine's David Freiburger's Dick Landy-build Hemi-powered '70 Super Bee getting the full QA1 treatment. It's a super cool build so we don't mind sharing it (as long as they don't sue us).
There has been practically no better time to be a Mopar enthusiast than the past few years (except for maybe, the late 1960's/early 1970's, of course). With the influx of aftermarket parts, Mopar lovers can fully explore a wide variety of builds, from concourse restoration, to street/strip, pro-touring, or anywhere in between. And of those aftermarket companies to join the ranks of Mopar suppliers, few have been more aggressive than QA1.
The Lakeville, Minnesota, manufacturer of performance suspension components quickly expanded their catalog of fabricated suspension components after acquiring Edelbrock's suspension line and CAP Auto Products. This, combined with QA1's 23 years as a specialty rod end and spherical bearing specialist and being one of the leaders in performance shocks for drag racing, circle track and street performance (with the acquisition of Hal and Carrera Shocks in 1998 and 2004, respectively), they are unequivocally, one of the industry's best in performance suspension.
Now, QA1 has come to join the newest and fastest-growing Mopar enthusiast magazine Mopar Connection Magazine for 2016, and we couldn't be more excited. For the eagle-eyed reader, you'll know that our own Project Brazen '69 Dodge Charger is already running QA1 double-adjustable (and rebuildable) performance shocks, allowing us to dial-in our suspension for street or drag strip use, and when the opportunity comes, autocross competition as well! That's how versatile their shocks are! Likewise, we'll also be bringing you the inside scoop on all of their fabricated suspension components and much, much more. So stay tuned to Mopar Connection and check out QA1 HERE!