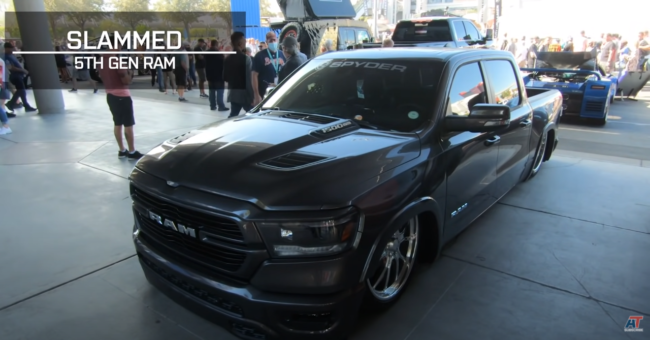 Builds of the annual SEMA show never cease to surprise and this year's bash was no different. The breadth of diversity within each class and category was such that a deep dive into each make and model provided a dizzying array of premium projects.
This year, AmericanTrucks' own Justin Dugan was on the scene to get a closer look at a show field riddled with Rams. In a recent episode of The Haul, Justin went eight for eight on some truck talent that was on display.
A pair of concept Rams in the Mopar booth were at the top of his list. The Rex Runner featured a host of OEM accessories like rock rails, skid plating, and the bed-mounted Rambar. Complementing its bright white paint scheme was the contrasting Outdoorsman concept. That truck's signature black and blue on both the interior and exterior really provided some extra pop.
In the land of the aftermarket, Magnaflow featured a TRX built with the help of Anderson Composites' carbon fiber accents. Vent inserts on the hood and fenders made that Hydro Blue burst from the body panels.
Outside, a lifted, Cummins-equipped Bully Dog build was the exact opposite of a slammed, chromeless Ram 1500. Justin's favorite seemed to be a mix of those two in the Prerunner which had a horde of stealthy mods that were super clean.
Lifted or lowered, glossy or dull, the SEMA show had it all this year. If your Ram fancies a facelift before the '22 event comes around, give the good folks at AmericanTrucks a call.