When you think about the Okanagan area of British Columbia, the first things that usually come to your mind are Okanagan Lake, wine, orchards and sunshine. With an average of 305 days of sunshine a year, the Kelowna area of the Okanagan is a hot spot for car enthusiasts, especially those with convertibles.
It was late 1969 and Bernie Monteleone, a high school principal in Kelowna was cruising around in his 1964 Plymouth Valiant convertible. "It was a beautiful car with a Slant 6 and a 4-speed. I loved driving it; but it had bad luck near the end of its run. Within three months, we got hit three times. The last time, a lady ran a red light and T-boned my son and I. That was the nail in the coffin for the car as that accident bent the frame."
Needing a new car, Bernie reached out to his friend Art Bregolisse at Lipsett Motors (which would become Kelowna Chrysler) in Kelowna and told him he needed another convertible. Bernie says, "Art told me, you have to look at these new muscle cars that are out. I agreed so he showed me the 1970 Plymouth Road Runners which were a fairly new release. I really liked it so I decided I would order one."
He continues to say, "When I told my wife I was ordering one, she told me that I better order Fire Engine Red but the instant I saw the FJ5 Limelight Green, I knew I had to have one in that colour. It was different and I liked it! I accented it with a white bench seat interior and a white convertible top. I noticed most of the convertibles around were automatic too so I ordered it with a Pistol Grip 4-speed because I loved that too."
Bernie would order his Road Runner very beautifully with a 383-4bbl engine, A833 Pistol Grip 4-speed transmission, N96 Air Grabber hood, V21 Performance hood treatment, AM 8-Track radio, 14" Sport wheel covers, power disc brakes, undercoating, underside hood pad and a trunk light for a total of $4,660.50 Canadian.
"I did a lot of negotiating when I ordered the car. I kept haggling the price down. Looking back now, I laugh because at the time, I got offered the 426 Hemi option for an additional $500 but instead I paid $239 for the AM 8-Track radio. I joke around to this day and call that 8-Track my Half-A-Hemi. You know what though, it still works perfectly", he shares.
On February 24th, 1970, Bernie would take possession of his brand new Road Runner. From the get-go, the car would be tasked with year-round daily driver duties. In fact, he even got an extra set of winter tires and wheels from the dealership with the car when he picked it up.
He says, "I would drive the car to work and all the kids at the school would love the car. They'd see me coming right away. I was very proud that they respected the car and never did anything to it. Sometimes kids have been known to do stuff to the principal's car; it was never the case with me and my Road Runner."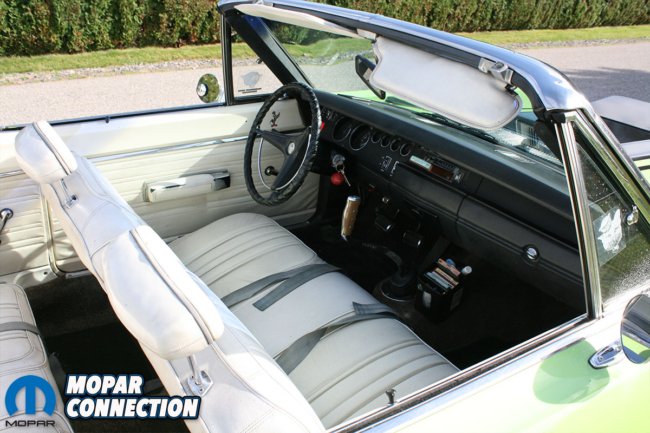 In the summer, the top would go down to enjoy the sunshine and the golf clubs would go in the trunk. In the winter, the winter tires and ski rack would get put on and up to the local ski resort it would go every weekend hauling the family. This would be the yearly tradition until the early 1990s when Bernie would decide to retire it from daily duties and instead use it as a summer time only cruiser.
The Road Runner would eventually require a lot of love. The years of snow, salt and rain had taken its toll on the car. The car would go to the body shop and get the entire front inner clip would get replaced as the inner fenders and front frame rails had rotten out. In 2003, the Road Runner would be fully repainted.
Over the years, the engine and transmission were rebuilt to ensure they were in tip-top shape. To keep the interior nice, a brand new seat upholstery kit from Legendary was installed along with a new convertible top. Otherwise, the interior is original.
"I think the biggest, rather most annoying issue I've ever had with the car was the Air Grabber hood. The vacuum pod stopped working one day. We installed quite a few reproduction ones that were available and they would last for a few months and then stop as well. We finally sourced out a good used original one and it's been great since."
"Besides that, a mechanic friend at Lipsett Motors and I went through a few different carburetors because the one on the car kept acting it. We tried a few different ones but eventually we came the full circle and rebuilt the original", he explains.
He continues to say, "I have kept everything from the car; all of the original dealership documents, pictures, receipts; literally everything. I even have the original dealership keychain and decal."
These days, Bernie enjoys driving his Road Runner in the summer time around Kelowna. In fact, you can usually see it parked at the local golf course with the top down while he's out golfing. "I'll never get tired of driving the Green Machine as I call it. It will forever be in my family as it'll get passed down to my kids one day. It's a part of the family," Bernie shares.