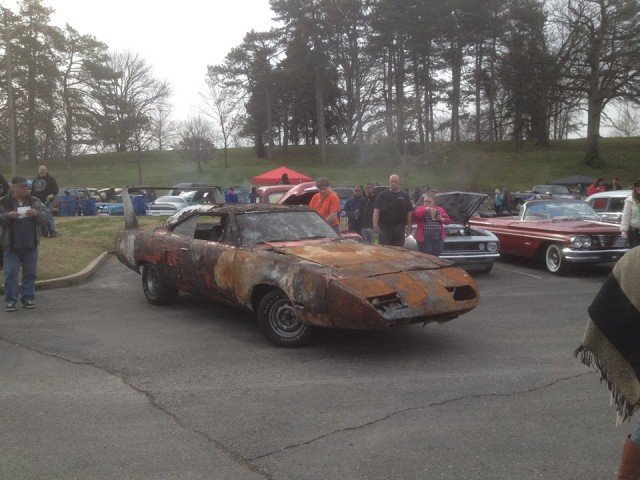 Anybody who has ever undertaken a project car knows of the frustrations, challenges and pitfalls that rebuilding any classic vehicle entails. When even the simplest fix can turn into a multi-hour marathon of percussive maintenance and newly-invented curse words, it is little wonder that an overwhelming number of project cars go unfinished.
But before you go and throw in the towel, we'd like you to check out this burned-to-a-husk Plymouth Superbird that showed up to a St. Louis car show this past Sunday in Forest Park. By all rights, this crispy supercar should be in a scrap heap, not the center of attention at a car show. It's an inspiring demonstration that no matter how far gone your project car may seem, it's almost never too late to turn back the hands of time.
We've so far been unable to locate too much information in this Superbird, other than it was the sole survivor of a barn fire that claimed 13 other classic cars, including some Harley-Davidson motorcycles. Even though it's "only" a 440 Six-Pack model, this toasty Superbird was still worth six-figures in completely restored form. We're sure the fire decimated its value just as it decimated the exterior of the classic Plymouth, but the unique patina drew a large crowd of onlookers at the car show.
And why not? It's a rare occasion when a Plymouth Superbird rolls up, and even rarer that this six-figure vehicle would be allowed to roll into a car show in such a shape. It gives new meaning to the phrase "survivor car" on top of being an inspirational story for project car owners across the country. If a fire won't stop this man from enjoying his unique Superbird, why should you let one stubborn bolt stop you?