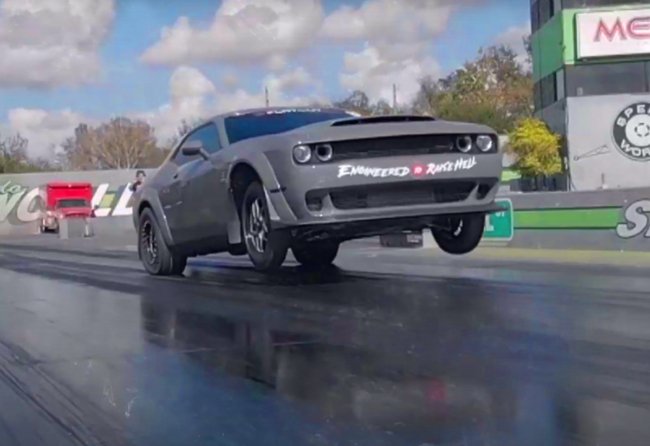 DiabloSport continues to pump out quality products to make our Mopars quicker and more efficient. Its latest development is the all-new DiabloSport Suspension Controller for the 2015 and later Hellcat, 6.4L SRT/Scat Pack, and Chrysler 300 6.4L SRT models. The Suspension Controller replaces the factory computer with a simple Plug-N-Play swap.
DiabloSport has designed fine-tuned calibrations to improve the handling and traction by optimizing the factory electronically actuated shocks. Your ride will feel more attached to the track or the street with reduced understeer and refined cornering and handling characteristics. During acceleration, the vehicle will have improved weight transfer and predictable road grip.
At the drag strip, The DiabloSport Suspension Controller has demonstrated improved 60-foot times on DiabloSport's 2019 Hellcat. The Suspension Controller dropped the Hellcat Redeye's 60-foot times by six hundredths down to a consistent and repeatable 1.29 seconds. While reducing six hundredths of a second does not seem like much, at the quarter-mile stripe, the elapsed times will differ by over 0.40 seconds (9.71 seconds down to 9.28 seconds). How many of us would love to pick up four-tenths of a second in a 9-second car (or just drive a sub-10-second vehicle)? Of course, the 60-foot times require the proper tires and a driver that knows how to work the car for maximum output performance.
A 2017 Hellcat owner stated about her on-track DiabloSport Suspension Controller experience, "when I floored it (the throttle pedal) in track mode the suspension immediately squatted rearward, and while doing the weight transfer, the rear tires spun a little but nothing crazy. I was more taken back that the tires quickly recovered and gripped, and after squatting, it felt like the suspension "firmed" itself back up to drive the tires into the pavement utilizing leverage from the car's weight. The weight transfer was extremely swift like a quick snapback, then cushioned, followed by a large amount of butt hauling."
Not a fan of the straight line? The DiabloSport Suspension Controller helps to unbend the curves by tightening the vehicle's handling. Again, DiabloSport used its in-house Hellcat Redeye in a variety of high-performance driving conditions, and the pre-loaded calibration modes were instantly noticeable and backed up by reduced lap times.
Regardless of your desire to tame the quarter-mile or whip your ride into the corners, the DiabloSport Suspension Controller can make a powerful Hellcat or SRT even more potent by upgrading the "relatively" soft OEM suspension calibrations. For a visual of the Suspension Controller's results in action, take a minute to watch some on-track performance. Irrespective of which Mopar you have, visit DiabloSport and check out its latest line of products.