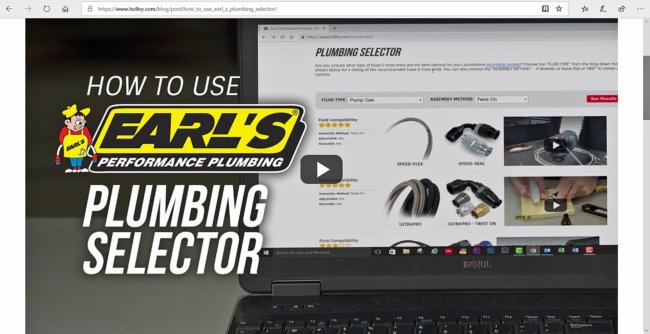 Are you modifying the fueling, oiling, braking, or cooling systems on your Mopar? How do you know what aftermarket plumbing components to use? As engine oil, coolant, brake fluid, pump gasoline, race fuel, alcohol, E85, and biodiesel continue to evolve and are supplied in assorted variations with diverse additive packages based upon the manufacturer's designs, it is imperative that there is a proper selection of the plumbing products to avoid untimely failures and the possibility of unsafe outcomes. Earl's Performance Products, a Holley company, has introduced an effective online tool called the Plumbing Selector, which will provide you with a list of the best products based upon your specific needs.
The Earl's Plumbing Selector is simple to use. Scroll down the Earl's website until the Automotive High-Performance Plumbing Selector heading is found. Start by selecting the fluid that will be used. Earl's provides a large list of vehicle fluids from which to select. With the fluid entered, Earl's will inquire about the assembly method that is preferred.
Top Left: At the Automotive High-Performance Plumbing Selector heading on the Earl's website, we used the pull-down box to select the fluid type we desired. We selected race fuel and depressed the enter key. Top Right: A pull-down box provided us with the assembly method we wanted for our Mopar. We selected the crimp on style. We entered our selection and then clicked on the "see results" button.
Once you have the fluid type and assembly method, a click of the "see results" button will generate a list of acceptable products for the desired fluid and assembly procedure preference. The Plumbing Selector will provide a list of the best results on a new page. The components are rated with a star scoring system. Five stars will provide the best performance for the selected application and one star is the least recommended.
By clicking on the recommended Earl's plumbing components, the website will redirect to the component's product page, which will provide a detailed overview of the component and allow the selection of the proper sized fitting, angle of the bend, product finish, and, when applicable, the appropriate length of the plumbing hoses. Now with Earl's assistance, the problem of finding the proper hoses and fittings to plumb your Mopar is a thing of the past.
Top Left: The Earl's Plumbing Selector provided us with the plumbing components that would work best with our application. Earl's rates each component with a star system. Five stars are perfect for our application, and one star is not the best option. Top Right: Clicking on the Ultra-Flex hose icon on the previous page brought us to this page. We were able to select the hose size, length, and fluid type, which provided us with a stainless steel or Kevlar outer material option. Just that fast, we found what we needed and could order it from the Earl's website.