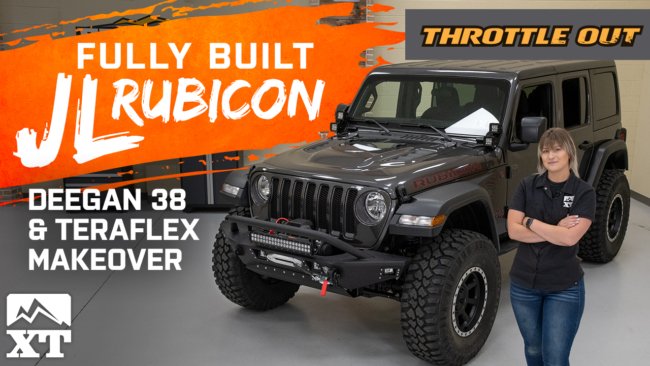 If there is anyone that can't leave well enough alone, it's ExtremeTerrain. But sometimes, as Merideth Evasew explains in a recent episode of Throttle Out, that isn't a bad thing. With a brand-new Jeep Wrangler JLU Rubicon in the shop, idle hands got to wrenching on some ultra-tough upgrades for this ultra-sleek late-model Jeep.
The first priority is always to gain a little ground clearance, this time via a Teraflex 2.5" sport S/T2 suspension lift kit with Falcon 3.3 shocks. "The biggest thing out of these shocks is that adjustability," Merideth explains. With twenty-four settings available, fine-tuning is as easy as the turn of a knob.
Filling out the heightened wheel wells are a set of Rovos Kalahari matte black 17×9 wheels with Mickey Thompson Deegan 38 mud terrain tires. "Paired with that two-and-a-half inch lift kit, this is not only going to look aggressive, but it's going to perform very well off road," says Merideth.
Of course, all of that extra functionality wouldn't be any good without some heavy-duty armor and recovery gear. For that, Merideth dug deep into the Deegan 38 catalog for premium components like a rear bumper with tire carrier, rock sliders, a front bumper, LED lighting, and a 9,500 lbs winch. All wrapped up and back on the road, both the visual and performance upgrades were abundantly clear. So why not leave well enough alone? Because it can always be just a little bit better!