Battery disconnect switches are more than just the handles you see sticking out of taillights, trunk lids, and bumpers at the drag strip. Disconnects can help lessen the risk of idle electrical fires, reduce battery drainage, and be a deterrent for vehicle theft.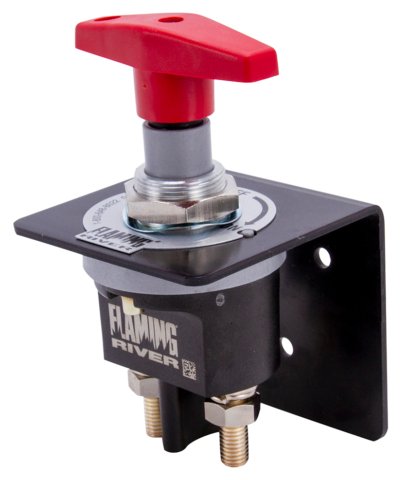 The new Big Switch 500 from Flaming River's heavy-duty division is made for the most difficult of applications with a massive 500 amp continuous rating. Couple that with a surge current rating of 2,500 amps for 5 seconds and you've got yourself one of the highest-rated disconnects in the industry. That kind of power flow requires quality components like silver-tin oxide plated contact terminals and a glass-filled nylon body. Both offer excellent impact, vibration, and temperature resistance.
Four versions are available, but all are rated for 500 amps and have an IP65 environmental protection rating. The standard model is the Big Switch 500 with Lock-Out Bracket (P/N FR1046) that comes with a 1910.147 OSHA-compliant lock-out bracket. A similar model is offered with a handy LED (P/N FR1046LED) to indicate if the switch is on or off.
If you're looking for mounting flexibility, the Big Switch 500 with Lock-Out Hole, Lever Handle, and Retrofit Diamond Bracket (P/N FR1047) is the ticket. It has a hole through the switch shaft so an additional lock-out bracket isn't required. Finally, the Big Switch for Racing (P/N FR1048) tips the scales at a minuscule 19.2 ounces for the hardcore guys that make every pound count. Terminal covers are not included, but are highly recommended to prevent any accidental sparks (P/N FR1003TM).