Have you looked at the cost of a nice tool box these days? It seems like even the most shade-tree of mechanics can have almost as much dough wrapped up in tool storage as in the tools themselves. With storage space coming at such a premium price, it can be really cost effective to pick up small, sturdy tools and cut down on realty in the roll-around.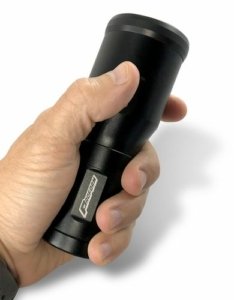 Multi-use tools like Proform Parts' combination timing light/flashlight (P/N 67419) can free up space by being compact, lightweight, and extremely useful.
This tactical-style light touts a black anodized billet aluminum body packed a high-intensity LED. The kicker is that by simply hooking up the one-wire inductive pickup, that LED can pull double duty as an extra bright timing light.
To use it as a flashlight, simply push the small silver button near the jack for the inductive pickup. Using it as a timing light is almost as easy. Just plug in the pickup, clamp it to the #1 spark plug wire, and press the other silver button on the opposite side of the light.
It's perfect as a tag-along for long trips that might require a few parking lot timing checks. If you want to throw it in the glovebox, a long-lasting lithium ion battery is rechargable via the included mini USB cable that can be adapted to a common cigarette lighter. Give your favorite Proform dealer a call to order yours today.