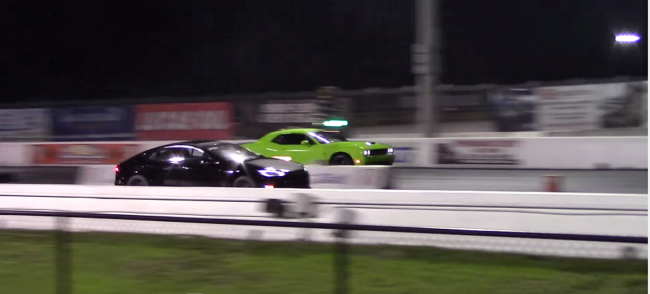 It is no fun to lose a drag race. It is no fun to lose a drag race when you're driving the much-touted 707 horsepower Challenger Hellcat, so-called most powerful muscle car ever made. It's also no fun to lose said race to an electric car. Yet that's what happened to a dude that goes by the name "Johnny Hellcat" over at the hellcat.org forum. His loss, back in January, to the lightning quick Tesla P85D lit up discussion boards across the internet as fast as, well, lightning.
While the Hellcat is not an easy car to drive in a drag race – no car with 707 horsepower ever is – Johnny Hellcat is also not an easy man to keep down. No sir, Johnny goes and gets himself some sticky DOT drag radials, spends his off hours practicing his launch and generally masters his hellish Challenger like a boss. Then, like Rocky Balboa, a few weeks ago he re-challenges the Apollo Creed of electric cars to a re-match. Mr. P85D says, "Hell, yes!" and off to the drag strip they go.
So what do you think happened? Well, the Mopar gods smiled on Johnny Hellcat that night and all his hard work paid off. He trounced the wily electri-fantastic Tesla – 11.08 versus 11.92. Musclecar lovers rejoice! Hellcat victorious! The intrenet goes wild!
Truth be told, both these guys deserve some serious pats on the back. One for opening himself up to potential reputational disaster if he lost – again. The other for giving Mr. Hellcat another shot at the "title". All we want is to watch this video – thank you internet. This is a Mopar moment we need to play again and again.