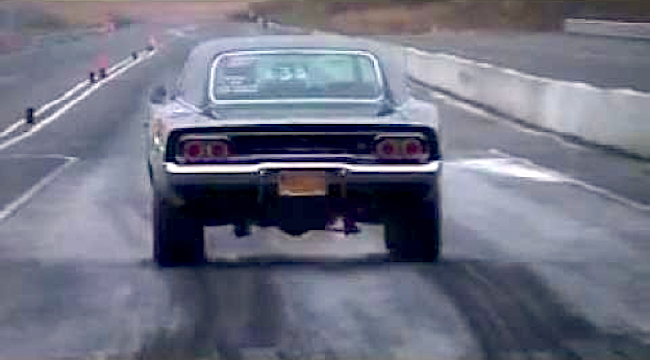 The triple black '68 Charger was first made famous in Steve McQueen's quiet detective flick "Bullitt" from the same year. As McQueen's Frank Bullitt closely closes in on a mafia hit job gone awry, two hit men behind the wheel of a blacked out Dodge (which was all new for that model year), attempt to escape through the city streets of San Franscisco's Mission District, only to be pursued by Bullitt in a Highland Green '68 GT390 fastback. The 11-minute car chase earned the film its own accolades for best editing and sound.
Yet, what resonated with car guys was the baritone growl of the big 440 Charger as it seemed to effortlessly get away from the high revving, heavy breathing Mustang. Although it met an unfortunate end (as most movie bad guys do), the Dodge Charger escaped as the movie's runaway star. Today, blacked out Chargers only rival orange ones with Dixie flags on their rooves in popularity and recognition. Although the supercharged Hemi '70 Charger showcased in "The Fast and the Furious" claimed to be a 9-second car capable of "900 pound feet of torque," the final drag race scene was all Hollywood fabrication.
For a look at a real 9-second Charger, we only have to look no further than Jim Trombly and his insane 9-second '68 Charger. Believe it or not, much of the Charger remains as Ma Mopar designed: it still has full interior and no, those wheel tubs have not been modified. In a post on Moparts, Trombly writes, "I have owned the Charger since 1974 and am the third owner. It had 68k on it when I bought it and has 78k on it now. It is an original RT 440 4-speed car.
"I picked it up from a buddy of mine for $1,200. I was only 21 at he time and had to get a loan from the bank, $50 a month payment for three years and she was all mine! Doesn't sound like much now but, when I was making $1.95 an hour and going to school it was enough. I started drag racing it in 1988 and have slowly progressed to where I am now!
Beneath the hood is a Porter Racing Heads-built 572 made with a World Products' aluminum block, and topped with an Indy tunnel ram with twin 750's., and a pair of Indy 440-1 345s. According to Dwayne Porter, owner, operator and engine guru from Burlington, Vermont, it dynoed at 910HP and 810 ft. lbs. of torque. Currently, the Charger's best times are 9.08 at 147MPH with a best of 1.25 at 60 foot. As Trombly says, "not bad for 3,700 pounds!"
https://youtu.be/7DdWawguLqE