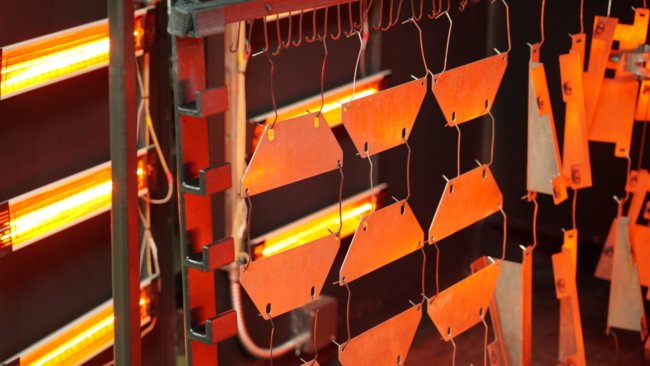 Large scale manufacturing processes can be a thing of beauty. To make a bunch of widgets as efficiently as possible while maintaining a high standard of quality, procedures need to be concise and well-engineered. And when we think well-engineered, we think Vintage Air. They've put a huge effort into raising the bar on their powder coating system to provide "a longer lasting and more durable powder coating to ensure only the highest quality product makes it to consumers."
Bringing the powder coating process in-house was the first step for full control of quality. Next, their engineering team worked with Hubbard-Hall, a leader in chemicals for cleaning, finishing, and treating, to design a pre-treatment solution. Just like paint, powder coat is only as good as the substrate underneath.
A three-stage decontaminating system was the result of their study. "These off-the-shelf solutions resulted in substantial cost savings and quality improvements when compared to alternate pre-treatments we considered, such as other methods of chemical and mechanical processing," said Senior Chemical Process Engineer, Allison Chisenhall-Harding.
All of that work on the front end gives the powder coating a maximized chance for success since the metal is completely free of any contaminants that may interfere with adhesion. What does that mean for the Vintage Air faithful? All of those powder coated brackets, pulleys, and accessories that come in their kits are sure to stay bright and shiny for a long, long time.