Whatever happened to the 1970 Hurst Golden Charger prototype? According to the members of DodgeCharger.com, very little is actually known about this car. Here's what we do know: back in 1970, Hurst submitted a Chrysler 300H and this Golden Charger concept to Chrysler Corporation for future production consideration. While the 300H was chosen for production, unfortunately the Golden Charger was passed over.
The Chrysler Hurst 300 (300H for short) was a very rare and unique car. Only 501 units are believed to have been built. According to sources, the reason there were only that few built was that the approval came well after the regular 1970 Chryslers were already in production. Therefore it was a scramble to get the Hursts made. Much worse, Chrysler thought Hurst would promote the model and Hurst assumed Chrysler would. As a direct result, most dealers didn't know much if anything about them until one showed up on a car carrier in their lot. Powered by a 440 TNT engine, the 300H came painted in white with gold striping and was outfitted with a custom fiberglass snorkel hood and rear deck lid featuring a unique integrated spoiler.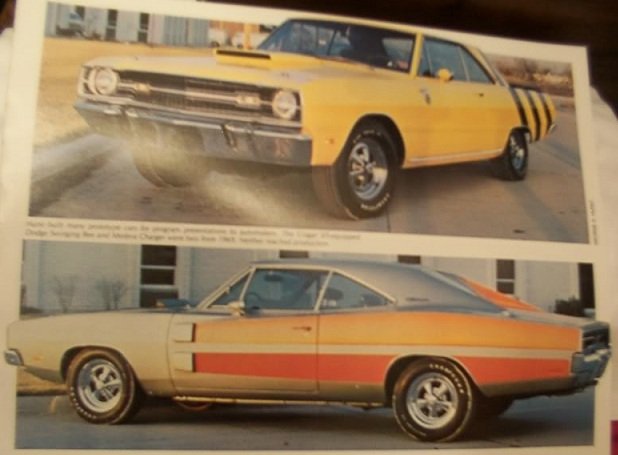 From what we've been told, the 440-equipped Golden Charger was essentially a trim package featuring gold painted Rallye wheels, a unique rear spoiler, and dual paint stripes that fade from candy apple to gold. According to sources, the Golden Charger's paint theme was inspired by the one-off, Hurst-produced "Madera Charger," from 1969. So that leaves us with the question, where is the 1970 Golden Charger today? It seems to have completely vanished off the map after its original reveal for Chrysler. Did it get crushed like most other concept and pre-production vehicles did? Is it still out there somewhere sitting in a barn?
According to a member of DodgeCharger.com, rumor has it that the Golden Charger was spotted in a junkyard in Bridgeport, Texas sometime in the mid 1990's. The description matched the Golden Charger but it was never investigated further. Chances are, if this was in fact the Golden Charger, it isn't very likely it still exists. Another member posted saying he's been trying to research the car as well but has come up empty handed. He contacted Hurst about the Charger but never got a response about its existence. So until some solid evidence is revealed, the search continues.