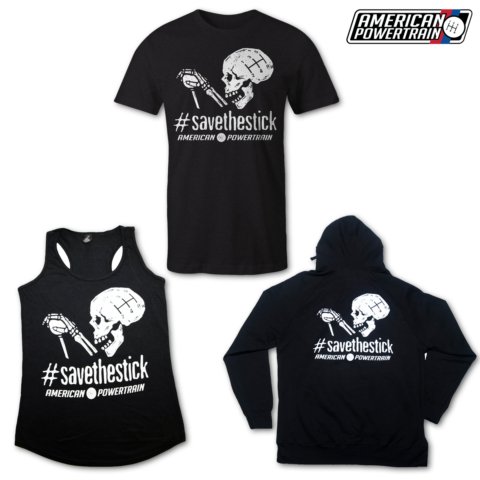 American Powertrain offers ProFit 5 and 6-speed manual transmission kits for a variety of cars including many of our classic Mopars. From pedal assemblies to hydraulic throwout bearings, they have large inventory of parts to not only swap an overdrive transmission into your car but also swap it from being a boring automatic. As many companies do, American Powertrain has released a few t-shirts for enthusiasts to help support them wherever they go. Recently they have added a whole line of merchandise dedicated to their "#savethestick" hashtag.
You may have seen the hashtag "#savethestick" floating around on social media. As the slow death of the manual transmission continues in modern cars, the hashtag started as a reflection of the passion American Powertrain has for manual transmissions. Matt Graves, American Powertrain director of marketing, says, "It's crazy how this just took off. The skeleton image with the hashtag save the stick just conveys something to our customers. It really goes to the core of what they love about having a stick in a muscle car or classic. Our customers appreciate the fact that they can upgrade to  modern overdrive transmission but still get the thrill of driving with a stick…There's just more fun with a stick."
The "Save The Stick" line of merchandise includes tee shirts, fitted hats, hoodies, bandanas, license plates and banners. They all feature the #savethestick for everyone to see. Most items range in sizes from S-3XL and can be bought online or at any American Powertrain sponsored event. Support the cause and your favorite overdrive transmission company American Powertrain by ordering your swag today.