The year was 1967 and a Mr. Melvin Wilson walked into a dealership called Dodge City in Rockford, Illinois in search of a new car. It wasn't long before Melvin found and purchased the perfect car for him; a 1967 Dodge Coronet R/T painted ZZ1 code Gold Metallic. The Coronet came fairly loaded with the light package, Music Master Radio, rear seat speaker, power disk brakes, electric clock, tinted glass, headrests, variable speed wipers, shoulder seat belts, black pinstriping, center console and chrome Road Wheels wrapped in red streak tires.
While many would think this Coronet was built to be a cruiser, they would be mistaken. Under the hood sat the optional 426 Hemi at a whopping $564 extra charge backed by a 727 Torqueflite automatic transmission and Sure Grip rear end. With a total cost of $4,334.50, this particular Coronet R/T was not only built with a lot of show but a whole lot of go!
Once he got his new car home, Melvin quickly got to work modifying it. Melvin was said to be a fan of legendary drag racer Dick Landy so he modified his Coronet after Dick's '67 Coronet R/T that he raced. Melvin installed a metal WO hood scoop and gave the engine some extra horsepower with an aftermarket camshaft, cheater carburetors, a Vanke intake and a super stock ignition system.
On top of that, he also installed different rear end gearing and a Hurst dual gate shifter. Melvin would take the car racing a few times where he brought home quite a few trophies before selling the car to a used car dealer named Unique Motors in Rockford in 1976 with only 3,800 miles on the clock.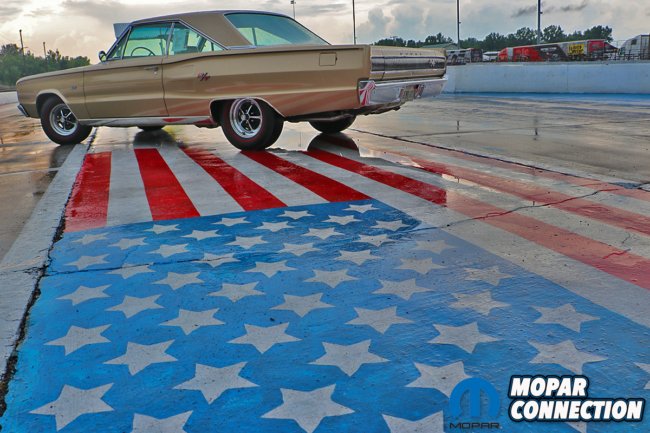 The dealer eventually sold the car thru an ad in Hemmings for $5,250 to A&D 24 INC, a museum in San Diego, California. After living in the museum for a few years, the elephant powered Coronet was then sent to Barrett Jackson in 1985 with only 4,600 miles on the clock. Yes, that's only 800 miles in nine years!
At Barrett Jackson, a fellow from Rome, Georgia purchased the car and started driving it once he got it home, bumping the mileage up to 8,023 miles. In July 1990, Greg Neuman from Illinois purchased the car with the intentions of giving it a long term home, something it had been lacking.
In March 2016, after 26 years of ownership, Greg decided that while the mileage was still low having only put 3,000 miles on it since purchasing it, the Coronet needed a partial restoration to return it to it's off the assembly line condition. To perform the task of bringing the Coronet up to tip-top shape, Greg contacted Muscle Car Restorations, Inc. in Chippewa Falls, Wisconsin. Shortly after, the folks at MCR picked up the Coronet and brought it to their shop to begin the process.
"I went to their shop two weeks after it got there to do a review of what exactly I wanted done on it. Even though the car was at their shop, I was still on a waiting list before they could start the car. While I waited for my turn in the shop, time certainly dragged for me as I was very excited to see work begin. On Halloween that year, Andy Pikulski from MCR sent me an email letting me know that work on the Coronet was finally starting!" says Greg.
As MCR got farther into taking apart the car, it was becoming apparent that to bring the car to the gold level that Greg wanted, a complete restoration would be needed so the plan changed to that and continued forward.
Greg tells us, "The car had zero rust being as it always had a pampered life and was always well taken care of but we decided to repaint the car to make it perfect. A NOS R/T hood was found and purchased in New Jersey to replace the original hood that the original owner had cut a hole in to mount the hood scoop. Besides the replacement hood, the car still retains all of its original sheet metal as well as its original interior. While the paint work was being done, the original 426 Hemi was rebuilt back to factory specifications and any other work that was needed to make the car look and drive like new was performed."
"MCR would send me emails every Friday with pictures of what was going on with the car. I anxiously waited for their emails every Friday morning! The restoration was completed right before the 2017 MCACN (Muscle Car and Corvette Nationals) show! The car was very close to being done leading up to the show and the team at MCR really rushed to get it done and into the show. Their hard work paid off as it took gold in the Concours Day 2 judging!"
He continues, "MCR was fantastic in everything they did on the car. Before talking to them about taking on the project, I had seen their work and decided they would do the car. I'm very glad that I chose them. I made the right decision! As of currently, the Coronet has just over 11,000 original miles on it and I do plan on driving it in nice weather and putting more miles on it!"