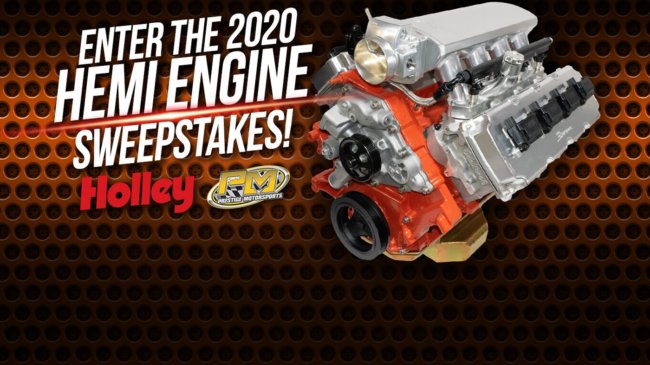 Have you been daydreaming about dropping a GEN III Hemi into your hot rod? For nearly every one of us, that answer is a big ole' – YES! That dream could become a reality by merely entering Holley's 2020 Hemi Engine Sweepstakes. Holley has teamed up with Prestige Motorsports to assemble a fuel-injected, stroked 392 cubic-inch Hemi, based on the famous 5.7-liter Hemi. The 392 comes as a complete drop-in package that is ready to run.
To operate the late-model electronically controlled components, Holley's plug-and-play Terminator X Engine Management System powers the eight dual-plug MSD Blaster coils and the eight 48 lbs/hr, high impedance, 12-volt saturated driver fuel injectors. The total Hemi package would set you back $14,359.51 (retail value), but if you win the sweepstakes, you can get yours for free!
What are the major components of the Hemi? Prestige Motorsports started with a fully machined 5.7-liter engine block. The rotating assembly includes a 4340 forged steel, 4.050-inch stroke crankshaft swinging 4340 forged H-beam 6.125-inch rods, and DDS Racing 4032 forged pistons and rings. The camshaft is a custom-ground hydraulic roller attached to a billet steel double roller timing chain set.
The oil pump is a standard-volume, standard-pressure Chrysler unit, and retaining the oil in the Hemi is a Milodon 7-quart, center sump, road race pan. The cylinder heads are aluminum Edelbrock pieces with 83cc masked-cross flow combustion chambers. Directing the atmosphere into the heads is a beautiful Sniper EFI sheet metal intake and matching throttle body.
Holley is quickly becoming the go-to source for all things GEN III Hemi. Several of the Holley companies (Hooker Blackheart, Sniper EFI, Hays, and Mr. Gasket) are continually developing and introducing new parts for the 5.7-, 6.1-, and 6.4-liter engines. New Holley parts include engine mounts, transmission cross members with various mounts for many of the popular automatic and manual transmissions, headers, complete exhaust systems, high-pressure fuel pumps and fuel tanks, and electronic engine management controllers.
Holley has introduced all the components necessary for a perfect Hemi swap into the 1972-1993 D100/150 pickups. Holley recently announced additional pieces to swap a Hemi into the 1966-1972 B-body Mopars.
If you want to win this Hemi, all it takes is registering for the sweepstakes from now until 11:59 P.M. CST on September 28, 2020. The winner will be announced on September 30, 2020. For additional information about the engine and the requirements of the sweepstakes, the pertinent data is provided on the 2020 Hemi Engine Sweepstakes entry form.