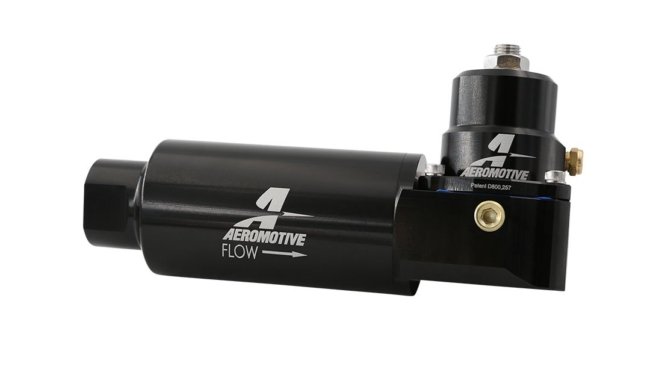 When ever you stray from factory parts on your classic Mopar it can be a pain to figure out where to place certain items. Depending on your exact Mopar, space is normally not a luxury that we have. Luckily our friends at Aeromotive have created the first ever Regulator Fuel Filter Combo.
Whether you are swapping in a fuel injected Gen III Hemi, switching over to fuel injection on your big block Mopar, or looking to regulate the fuel better on your carbureted motor, the new Aeromotive Regulator Fuel Filter Combo is for you. The combo's design will support everything from a street cruiser to a 1,000 horsepower drag car.
This unique design allows you to mount the fuel filter and regulator at the same time and saving you from trying to mount two separate parts. Depending on your fuel systems demands, Aeromotive offers the Regulator Fuel Filter Combo in a carburetor model (#13226) and a fuel injection model (#13146). You can read Aeromotive's press release below with all the details about the new Regulator Fuel Filter Combo.
Aeromotive, the leading aftermarket fuel systems and accessories manufacturer, has developed a new fuel filter and regulator combination unit to ease installation and reduce return line length. The Aeromotive Regulator Fuel Filter Combo is the first-ever to feature an adjustable regulator and is available for carbureted or EFI setups.

Finding locations to fit separate fuel filters and regulators can be challenging in some applications and adds to plumbing complexity. The new Aeromotive Regulator Fuel Filter Combo solves these challenges. It simplifies the installation process by combining a fuel filter with a regulator into one compact and easy-to-mount unit. Its universal fitment and billet aluminum construction make it ideal for use in a wide range of street-performance vehicles with up to 1,000 horsepower.

As a company that prides itself on addressing challenges, Aeromotive engineers were challenged to provide a solution to the shortcomings of OEM and aftermarket combination fuel filters and regulators. Those products are neither adjustable nor suitable for high-volume fuel pumps. As a result, our engineers developed a more robust solution that integrates an adjustable regulator and an easily accessible 10-micron filter to meet the increased fuel flow needs of high-performance engines.

Two separate combo units are available for carbureted (P/N 13226) and EFI (P/N 13146) applications. Both feature adjustable regulators to handle varying fuel flow and pressure demands. The EFI version is suitable for Aeromotive A1000 or smaller fuel pumps and is adjustable from 40 to 75 psi. Designed for use with 250 GPH or lower output fuel pumps, the carbureted version can accommodate pressures of 3 to 20 psi.

The Aeromotive Regulator Fuel Filter Combo includes a 10-micron cellulose fuel filter element that is easy to service and replace. It also features standard -10 AN inlet and outlet ports and -06 AN return port sizes, further simplifying installation. A separate 1/8-inch NPT port allows for easy fitment of a fuel pressure gauge. Aeromotive's one-year limited warranty backs the Regulator Fuel Filter Combo. Visit www.Aeromotiveinc.com for more information on it or any other Aeromotive products.