If you know anything about overdrive stickshifts for Mopars then you know that American Powertrain has quickly become the biggest Tremec dealer and, more specifically, the biggest Tremec kit supplier to Mopar owners. One of the keys to their success is sticking with what they know. "I'm a drivetrain guy," says American Powertrain's co-founder Gray Fredrick. "Our guys are all drivetrain guys. From the bellhousing to the rear-end cover, that's what we do, that's what we know. We don't bother with brakes or suspensions; there are people out there who know that stuff cold. We know our stuff. And we pass that knowledge onto our customers in parts and kits that work."
"We don't want our customers scratching their heads. We did the head scratching for them and turned manual swaps into a no-brainer. People want easy, modern, tough technology, we give it to them so they can bolt it in." Fredrick continued. And while it is well known that you can get your hands on a 5 or 6-speed from them for any V8 powered Chrysler Corp car, truck or street rod, you may not know about one of the best kept secrets under the roof at APT: They own a clutch company too.
Above left: American Powertrain's lineup of Science Friction clutches range from mild to wild: The Super Street clutch is rated from 350-475 ft-lbs applications and is ideal for street, circle track, road racing. Above right: The Mean Street Duo clutch pack is rated from 450-580 ft-lbs and is targeted for mixed use between street and strip and pure street.
"Going back to our humble beginnings eight years ago we were selling transmissions to muscle car and street rod guys and buying clutches from other companies," says co-owner and product guru Gray Fredrick, "But we ran into quality issues, inconsistent parts and cheap stuff from overseas. Basically, the clutches we could buy were not always up to our quality standards, so we went out and started our own clutch division."
American Powertrain clutches, dubbed "Science Friction," feature high-grade pressure plates, discs made in the USA, and materials that maximize performance without the need for pressure plates that break your leg. It's a simple approach that pays big dividends on the street or at the track. Sold in two stages with several innovative friction disc designs, American Powertrain has a clutch kit for any engine and tranny combo you can throw in your classic Mopar.
Above left: For more aggressive applications, APT offers their Street Slayer clutch for healthier 545-755 ft-lbs street or street and strip applications. Above right: And lastly, there is the Track Slayer (rated for 645-800ft-lbs) and is for drag racing and, as APT's Gray Fredrick says, "gettin' her home" only.
But sometimes, a traditional single disc and pressure plate set-up is not enough to get the job done. With 600-plus horsepower in every crate engine catalog and components available to make much more power than that right on the engine stand in your garage, American Powertrain saw the need for a clutch for the street and strip crowd that can take mind warping power without the need for a hip replacement.
"We knew we needed a twin disc clutch, but there were streetability problems with the ones already out there. Essentially, twins came from racing and when they engage they pancake all of the friction surfaces simultaneously making them very hard to creep or modulate." Fredrick told Mopar Connection. "We wanted to go back to the drawing board and make something that had the capability of a twin but the easy street manners of a high quality single disc clutch."
Above: Here's a great exploded view of American Powertrain's Atomic Twin-Disc Clutch kit.
Enter the Atomic Twin, American Powertrain's unique approach to multiple disc clutches. What makes the Atomic Twin different is that it engages one disc at a time, progressively, which gives it the feel of a light effort stock single disc set-up but with up to 1100 lbs-ft of torque crushing grab.
Says Fredrick, "The old dual disc clutches would engage both discs at once to harness power, which is great for the drag strip, but not so great for everyday driving of the vehicle. Our design provides a smooth transition of clutch engagement to the engine, without the jerky, grabby habits of old dual-disc units that did all their biting at once. It'll handle 1100 horsepower and your grandma can park the car."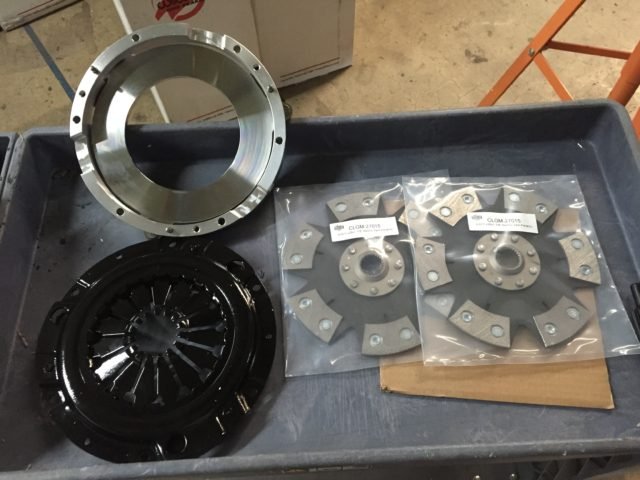 Above: American Powertrain's Atomic Twin-Disc Clutch kit comes complete to directly swap out with your traditional single-disc clutch.
Above left: Beneath Gray Fredrick's own '67 Dodge Coronet convertible is a APT Magnum 6-speed recently equipped with their own Atomic Dual-Disc Clutch kit. Above center: Each step of the installation shows the level of quality and cleanliness of the clutch kit. Above right: The Atomic kit not only can hold up to full-drag race levels of power but maintains a level of driveability that allows for mild cruising conditions as well.
The system starts with an American Powertrain flywheel machined from your choice of billet steel or billet aluminum. This flywheel is Atomic Twin specific and features dowel pins that perfectly center a billet aluminum floater cage that houses a cryo hardened dual Blanchard-ground floater plate. Note the absence of the typical free floating stands from more common race derived "on-off switch" dual disc clutches.
The most popular set-up they offer comes with a pair of solid hub gas-ventilated Feramix discs which utilize a blend of sintered iron and ceramic materials that is easy on the friction surfaces but has huge power holding capability. The vents also prevent hot gasses from floating the discs, keeping the power in the pads under hard use.
Above: Although not all of us have access to a car lift, the installation goes in smoothly requiring no shimming or added machining. APT's Fredrick is shown here tightening down the cryogenically-treated nodular iron pressure plate using the supplied high tensile-strength fasteners.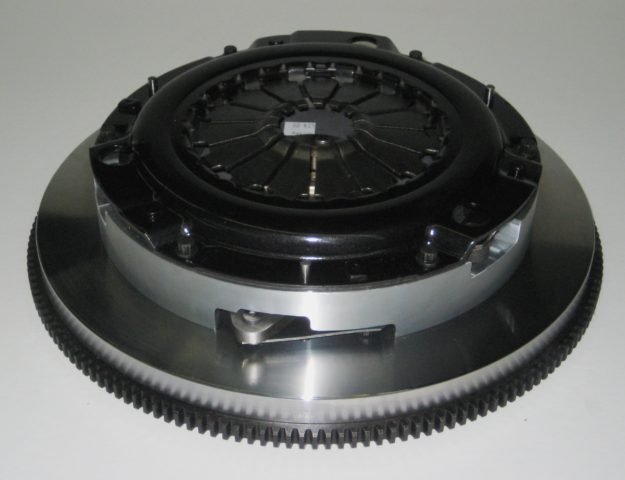 Above: Dual (or twin) disc clutches are characteristically rigid, requiring an uncomfortable amount of leg strength to engage – earning the nicknames "breakers" or "light switches." APT's Atomic Twin-Disc kits purposefully addressed this, and have engineered its own "Progressive Uptake" providing smooth and noise-free engagement.
A scratch built 2200-pound clutch cover with a cryogenically-hardened plate caps the whole thing off and is aligned by its own set of dowel pins. Bolting this thing together is a snap. Just fasten the flywheel to the crank, stack the components, insert the provided alignment tool and torque down the six bolts that hold it all together. The components are inherently balanced and paralleled so there is no shimming or measuring.
Incredibly, the whole thing weighs less than many single disc systems and the stack up height, another problem with typical twins, is actually shorter overall than nearly every common single disc diaphragm clutch on the market. And every single part of the assembly can be purchased as spares or for maintenance when needed. Compact, smooth and power hungry the Atomic Twin is available for any of Tremec 5 or 6-speed transmission. And since they are Mopar guys at heart they also support the 23 and 18-spline A-833 4-speeds. So whatever Mopar muscle car you're in, American Powertrain has put a whole new world to under that Pistol-Grip shifter.