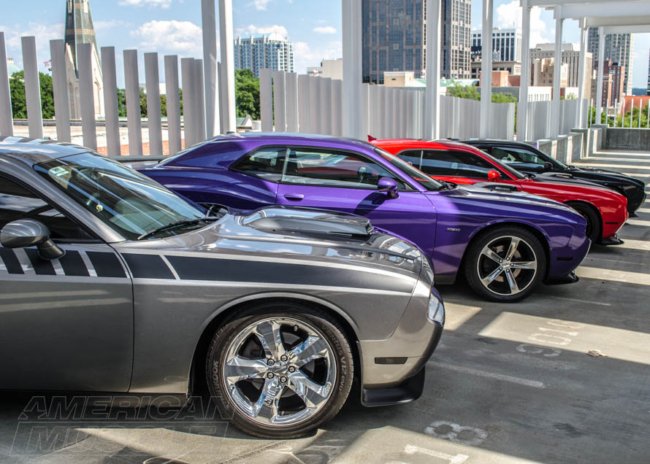 There are so many factors to consider when picking out a set of aftermarket wheels; diameter, width, finish, material, and bolt pattern are just a few. For modern Mopar muscle, the options are so plentiful that it's actually pretty important to do some homework and make sure the wheels you buy perform as well as they look. AmericanMuscle (AM) recently put together an essential guide to modern Challenger wheels to help you choose and maintain the right rolling stock for your ride.
Size is one important consideration. While a set of narrow "skinnies" up front can help with quarter-mile times by decreasing rolling resistance, they'll be an absolute nightmare on the autocross track. For that, it might make more sense to go as wide as possible all the way around for maximum surface contact on tight corners.
As AM's chart shows, factory sizes have ranged from 17×7 to 20×9.5 since the E-body's reincarnation in 2008. Bolt pattern has stayed constant at 5x115mm. It's important to note that 5x115mm is not the same as 5×4.5". With an 0.028" difference in bolt pattern circle, the two patterns are close but should not be interchanged.
Wheel material is another major factor in wheel selection. Steel and aluminum are the main players nowadays. AM explains, "Lighter weight wheels will improve the acceleration of your Challenger, plain and simple. By having to push around less weight, the power-to-weight ratio of your Dodge will increase." And as that power-to-weight ratio increases, so does the distance between you and the guy you're racing!