In 1994, NASCAR held meetings to discuss a new concept, racing trucks. They experimented over the off season with "the Winter Heat series" and then in 1995 ran their first season of what was called the Super Trucks with 20 races. That first season Mopar was represented by a couple of teams mainly that of K Automotive or Keselowski Racing headed by long-time racer Bob Keselowski which made 16 appearances in the inaugural year. Off-road racer Walker Evans also fielded a team for a couple of events.
In 1996, Mopar increased its presence with Keselowski Racing coming back strong and Walker Evans competing in many of the series events. The legendary Petty Enterprises got involved with a Mopar truck field for Rick Bickle and Granddaddy Motorsports field a Ram for veteran Jimmy Hensley.
Keselowski and Petty continued to carry the Mopar banner through the next several years with owners Ron Norick and David Hobson also fielding Mopar teams. In 2000 a new team was added as Bobby Hamilton Motorsports joined the list of Mopar owners.
In 2001, Jim Smith's Ultra Motorsports also jumped onboard with Mopar led by former Cup driver Ted Musgrave, who finished second in season points. The following year, Musgrave and Ultra Motorsports finished third in points. Musgrave finished third in points again in 2003 with Bobby Hamilton now the lead driver in his team finishing seventh in series points.
After knocking on the door for several years, 2004 turned out to be the year that Mopar finally kicked in the door and claimed the NASCAR Craftsman Truck Series Season Championship. Bobby Hamilton posted four wins as he won Mopar's first truck championship with 3,624 points. Ted Musgrave once again finished third in points with two wins and 3,534 points and Chad Chaffin driving for Bobby Hamilton Motorsports posted two wins and finished tenth in points.
The season did not start out well for Mopar at Daytona in the Florida Dodge Dealers 250, but a month later, on March 13 at Atlanta, Hamilton put his Mopar in victory lane with Musgrave and Chapin posting top ten finishes. After the race and after a side-by-side duel with former series champion Mike Skinner Hamilton was excited in victory lane.
"I knew it was going to come down to the two of us," said Hamilton. "Even after he got by me, I still felt I had a shot at him. I don't know what it was outside the driver's seat, but it was exciting inside. It took a while for the fans to leave, so I figured it was good for them too."
Martinsville in April was not kind to the Mopar efforts, but on May 16 at Mansfield, Ohio in the first NASCAR event in Ohio in 50 years Hamilton salvaged a fourth-place finish. Lowe's Motor Speedway in Charlotte didn't help the Mopar cause much either/
On June 4, it was off to the "Monster Mile" at Dover and Chad Chaffin driving the #18 for Hamilton Motorsports picked up the win. "It was an incredible day," said a very emotional Chaffin after the race. "This is a day I didn't know would ever come." It was Chaffin's first win in the truck series.
The next week at Texas, Mopar teams started getting stronger as they posted three in the top seven with Musgrave second, Chaffin fifth and Hamilton seventh.
It started really coming together on June 19 at Memphis Motorsports Park with Bobby Hamilton scoring his second win of the season and Ted Musgrave finishing third. By winning Hamilton become the first Tennessee driver in the history of the NASCAR Craftsman Truck Series to win in his home state.
For Hamilton the win was special for another reason. "I'm a huge Elvis fan.' Commented Hamilton. "I was trying to get here early enough to go to Graceland because I had never been there before, and I'm staying over so I can."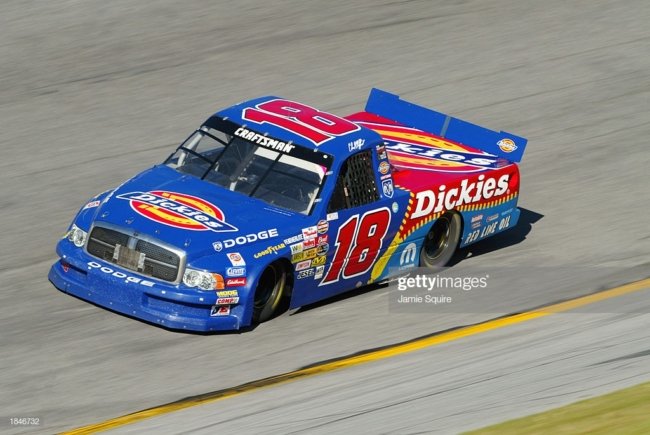 Great things continued to happen for the Mopar teams the following weekend as Ted Musgrave picked up the win at the legendary Mile at Milwaukee with Chaffin second, Steve Park fourth in another Dodge and Hamilton sixth. "We didn't run very well at the start of the season, said Musgrave. "Jim (Smith) had made a decision at the end of last year to change things around. After Mansfield we had a pretty heated discussion and I told him we needed to rehire Gene Nead as crew chief." Nead was rehired and Musgrave immediately began to run better.
At Kansas Speedway on July 3 Hamilton posted a second and Park a fourth-place finish. The following week at Kentucky Hamilton was back in victory lane with four Mopar trucks in the top seven. A green white checker finish allowed Hamilton to take back the lead and post the winner over Jack Sprague.
At Gateway the following week it was Musgrave third and Chaffin fourth for Mopar. Two weeks later at Michigan it was Musgrave second and Hamilton fourth.
On August 6 at Indianapolis Raceway Park, Chaffin posted his second win of the season with teammate Hamilton third. "We won at Dover, and you had your critics," said Chaffin. "People said, 'Well, he got off on strategy. 'Well tonight we were able to win the old-fashioned way." Chaffin passed Johnny Sauter and Travis Kvapil on the last lap to win.
The following week it was back to Tennessee and native Bobby Hamilton was back in victory lane as he led a Mopar freight train that show Musgrave finish third, Bobby Hamilton, Jr. (driving for dad) fourth and Park fifth. One of racing most coveted trophies the Gibson guitar goes to the winner and Hamilton who lives in Nashville said, "I've had about everything that can happen, happen to me to keep me from winning the guitar."
On August 25, Bristol was not kind to Mopar drivers with Park the only one in the top ten with a ninth. But on September 9 at Richmond it was Musgrave back in victory lane. "When its your day, you can do no wrong," said Musgrave. "Musgrave led 199 of the race's 209 laps.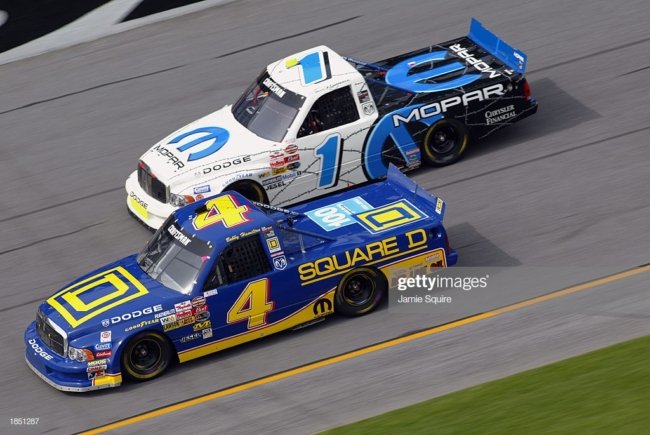 Mopar struggled at Lowe's Motor Speedway with Musgrave scoring a seventh-place finish. At Las Vegas the following week it was Hamilton fifth and Musgrave eighth. Things got better in early October at California with Musgrave second, Hamilton fifth and Park eighth. Then to Texas where a third helped Hamilton extend his series point lead with Musgrave scoring a sixth.
The Kroger 200 at Martinsville on October 23 saw Musgrave post a fifth and Hamilton, Jr. a ninth but a 26th place finish cost Hamilton, Sr. the series point lead. Phoenix saw Hamilton take back the point lead with a seventh-place finish following Park in sixth.
"The lady in black" Darlington was a pivotable race for Mopar with Hamilton second, Musgrave third and Park fifth. Hamilton had a 70-point lead going into the finale at Homestead. It wasn't pretty but Bobby Hamilton's 16th place finish was good enough to nail down the series championship. Ted Musgrave's third place finish allowed him to finish third in series points.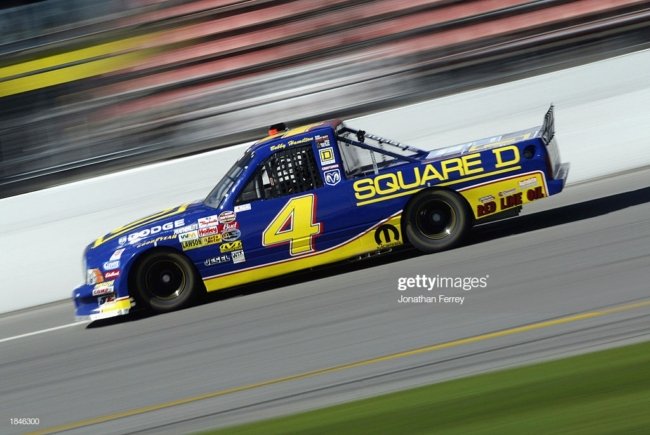 "It's been a pleasure watching my team bop around, have fun, throw water balloons at one another," said Hamilton after winning the championship. "One day late in the season they were in a wrestling match up in the hauler while practice was going on. As the owner, it's pretty cool seeing them keep a laid-back attitude (just like their boss)."
And because his team didn't get too uptight as the championship battle reached a fewer pitch, Hamilton called his title his best one ever. "I'm proud of all my people," he continues, "This (championship) is for them."
So Mopar had finally reached the apex of the NASCAR Craftsman Truck Series after a decade which so their efforts get steadily better. Unfortunately, there is a big downside to this story, in March 2006 it was announced that Hamilton had head and neck cancer and his career was cut short. He passed way on January 7, 2007.