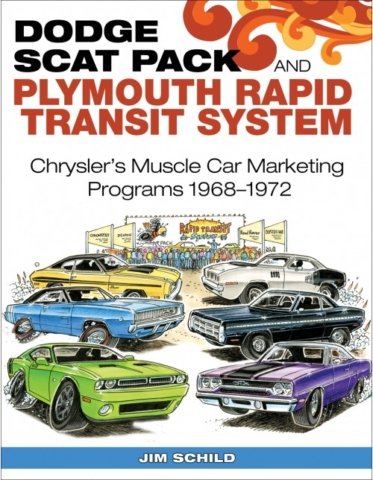 Earlier this year, we heard about a new book on the market called "Dodge Scat Pack and Plymouth Rapid Transit System; Chrysler's Muscle Car Marketing Programs 1968-1972". The description on the book had us instantly sold. It read;
"1968 was set to be a pivotal year for Dodge as fresh designs debuted on the Coronet and Charger platforms. Short on sales but not on performance, Dodge marketers wanted to initiate a program that would ignite brand awareness while maintaining the performance edge they had on the streets.
With "Dodge Fever" in full swing, the Scat Pack was born. Two years later, Plymouth's Rapid Transit System followed Dodge's Scat Pack. Both programs relied heavily on grouping their performance-oriented cars with messages aimed at the under-35 audience."
"Chrysler incentivized owners to join its "clubs" by offering free merchandise. Plymouth took its show on the road with the Rapid Transit System Caravan featuring prototypes that could be seen at dealerships. The result was one of the most memorable, highly successful marketing campaigns of the muscle car era. Thorough examinations of the Charger R/T, Coronet R/T, Dart GTS, Super Bee, Daytona, Challenger R/T, Demon 340, Road Runner, GTX, 'Cuda, Duster 340, and Sport Fury GT will have you itching for a time machine and bell bottom jeans."
We eagerly awaited to get our hands on a copy of it and the minute we did, we tore into it. With 192 pages featuring 366 color and 25 black and white photos, this book is a must have for any Mopar enthusiast. It's beautifully laid out with every chapter separated for every year of the Scat Pack and Rapid Transit System programs respectively and even further laid out in those chapters for each individual vehicle such as the '70 AAR 'Cuda or '68 Charger R/T. While we expected to see everything from 1968-1972 in the book based on the original description we read, we were pleasantly surprised to see that author Jim Schild also included the predecessor 1966-1967 models as well as the modern 2014 to current Mopars.
We will be honest, when we first got the book and saw "1968-1972" on the cover, we were a little confused on why it had a Sublime Green 2015 Challenger R/T on it. Our first thoughts were "Oh no, will this be full of mistakes?" In our past experience with automotive books that have touched on the Mopar topic, we've found phrases like "1971 Dodge Duster," "1973 Dodge Charger R/T 383" and "1970 Plymouth Barracuda R/T." (No lie, a book with that exists and we have it at home; it hasn't been touched in years.)
With that in mind, we combed through this new book word by word and honestly couldn't find a single mistake. To say author Jim Schild knows his Mopars is an understatement. The book is 100-percent loaded with correct and knowledgeable information and Jim absolutely hit it out of the park. The photos are out of this world too. Jim truly searched high and low to find the best photos for his book and the results show for it. With every page, you will find high quality examples of original advertising as well as a whole ton of beautiful Mopar iron. If you are a Mopar enthusiast, you need to have this on the shelf. We sure are proud to.
A very special thank you to Jim Schild and Bud Kleppe of CarTech, Inc.