Now there are two more reasons to choose CVF for your pulley needs. CVF just announced they have added two more finish options for their pulleys and kits. Offering more options to customers takes more effort and time but CVF is committed to serving their customers the best they can. Putting the customer first, CVF has created more finish options to better match your style.
Polished Aluminum
This is the finish that started it all. The Polished aluminum finish was the first finished offered by CVF and is still a popular option for customers today. CVF hand polishes each CNC machined pulley and bracket.
Giving off an incredible shine your sure to stand out at the next show. The Polished finish is available in both serpentine and v-belt product lines with a Life Time Warranty.
Stealth Black
The Stealth Black finish is created by anodizing CVF's pulleys and brackets in a unique blend that generates an extra layer of protection. The finish results in a pristine satin black appearance that is scratch and wear resistant. The Stealth Black is available for all pulley kits and comes CVF's Life Time Warranty.
Polished Aluminum C3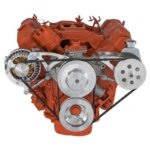 One of the newest finish options is CVF's exclusive C3 ceramic clear coat finish provides a protective barrier that outperforms clear powder coat. The formulation protects the brilliant aluminum with a coating that is harder than powdercoat, but is also 100% UV stable and heat resistant to over 1,000°.
You get a finish that is maintenance free and more scratch resistant without having to worry about yellowing, hazing or oxidation. The C3 finish is available for all Wraptor kits and includes a Life Time Warrenty.
Black Diamond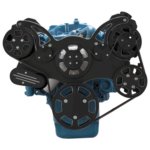 The unique blend of Stealth Black and Polished finish is sure to grab attention at the next car show. CVF's all-new Black Diamond finish features 45-degree, polished edges to make your kit truly standout from others.
All Black Diamond kits feature polished edging along the exterior of brackets and the interior of spoked pulleys. The Black Diamond finish still provides optimal scratch and wear resistance for Wraptor kits and includes the Life Time Warranty.