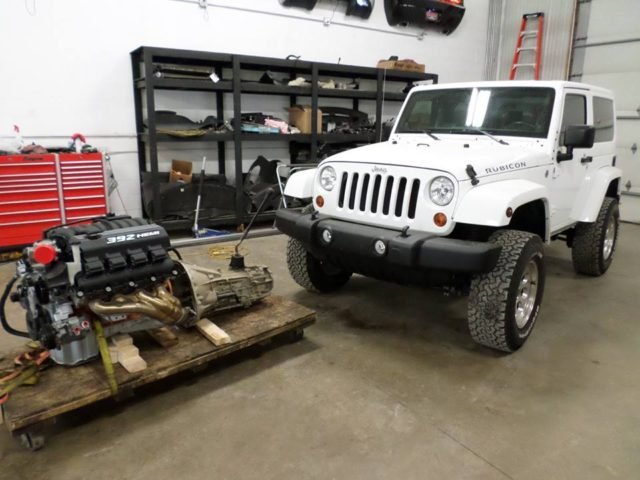 Many Jeep Wrangler fans and owners are diehards. We absolutely love everything about our Wranglers. For many, the 3.6L V6 that comes in today's Wranglers does the trick power wise. For those Wrangler owners that seek a little more under the hood though, Cleveland Power and Performance of Ohio is very proud to offer up for sale a one of a kind, custom built 2013 Jeep Wrangler Rubicon that has been swapped with a 6.4L Hemi and 6 Speed manual transmission! Since we here at Mopar Connection love horsepower, this Wrangler instantly caught our attention.
This extremely clean Rubicon has been professionally custom built with countless hours of fabrication. All of the swap components were custom made in house at their shop with full attention to detail. That includes the custom made long tube stainless steel headers, 3″ mandrel bent exhaust, air cleaner, aluminum overflow bottle with numbered build plaque and much more! They purchased this Jeep after it had been involved in an extremely light fresh water flood. The flood damage was very minimal and did not raise above the seat tracks.
After all of the flood affected components were replaced with parts from a donor Wrangler, the team went right to work with switching the drive train. Using a 6.4L 392 Hemi SRT V8 from a 2013 Dodge Charger SRT-8, this Wrangler produces 470HP and 470ft-lbs of torque! Prior to installation in the Jeep, the engine was rebuilt in house by their certified engine builder before being mated to a Getrag 6-speed manual transmission.
This Jeep runs, drives, starts, and stops like it should. All of the original Rubicon features remain fully functional including the sway bar disconnect, axle lock, cruise control, as well as 4WD high and 4WD low. On the outside, it looks like a typical Wrangler Rubicon with absolutely no signs of a Hemi badge anywhere on it. It's a definite sleeper! Priced at $54,995, it's not cheap by any means however this Wrangler will tear up the trail and blast through mud-pits with ease and we'll bet you will be the only one out at your favorite off-road spot with a 6.4L Hemi under the hood!
See the entire gallery at Cleveland Power and Performance's Facebook page HERE!