A little over a month ago, we visited Chuck Davis' home just outside of Louisville, Kentucky. Davis, an avid Mopar enthusiast has been building cars and engines for 50 of his 65 year years, and has the collection of rare, unique and often irreplaceable items to prove it. In touring three garages chocked full of A- and B-bodies, including several Darts and Barracudas, a Sport Satellite and Belvedere wagon (not to mention a very rare T/A Viper), Davis admitted that he had more stuff tucked away elsewhere.
"I've got maybe a handful more engine builds left in me," Davis jokes. "I don't need half of this stuff anymore." Over the years, many who regularly tour the swap meet section of the Indy Cylinder Head Chrysler Performance Trade Show, Chryslers at Carlisle or most recently, the Holley MoParty, have likely seen Davis selling many of his wares. Big, broad-shouldered and topped with a shock of white messy hair, Davis is quick with a handshake and a wide smile.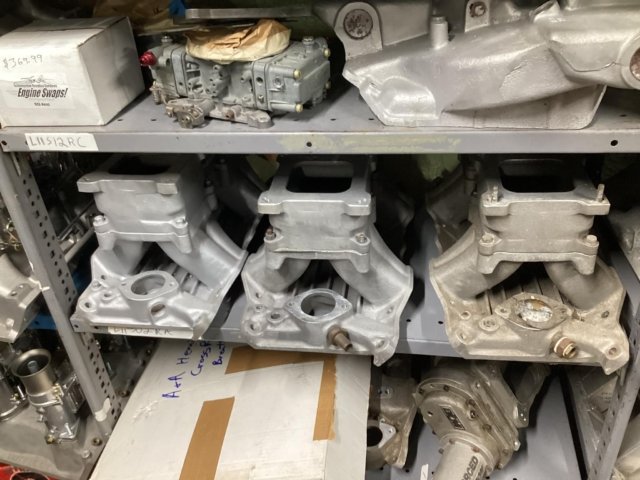 His booth is impressive: rows of rare and weird intake manifolds from throughout Mopar's lauded history in both drag racing and NASCAR. Magnesium cross-rams, dual four-barrel "rat roaster" Hemi "bathtubs," and more configurations of tunnel rams than you've ever seen. We purchased a much needed Ray Barton single-plane manifold during our visit, which Davis extracted from his own car – a testament to how far he'll go to help another car guy out.
Only recently did Davis publicly announce his desire to clear out much of his collection. In a recent Facebook post, Davis asked, "Anybody wanna buy some car stuff? […] I'd like to get rid of the majority of it and move on to other endeavors. Don't mistake "gettin' rid" of it with "giving it away." […] If you see something you like just PM me and ask about it, everything's got a price and I'm not emotionally attached to any of it. […] I've got stuff that's rare and hard to find and that you probably won't ever see anywhere else and the prices will reflect that."
We've linked the post below:
His post doesn't include half of his collection and frankly, our tour didn't do it much justice either. Not everything in our video is up for grabs either, but it never hurts to ask. In our video, Davis permitted us to share his phone number (502) 741-1659, which he'll accept phone calls and text messages – in addition to private messages on Facebook. Again as Davis notes, while he's not emotionally tied to anything, he's also no dummy, is in no rush to off-load anything and knows the value of the rarer items.