For every car enthusiast, there's always that one car that you chase for years and it always seems to elude you. For myself, it's been a 1970 Dodge Challenger. Growing up, Vanishing Point was one of my favorite movies and Kowalski's white 1970 Challenger R/T was love at first sight. Over the years, I would always have a desire to own one but it never seemed to happen.
In 2009, a friend shared the location of an originally Plum Crazy Purple 1970 Challenger SE sitting in a front yard near me. The car had been painted black at one point and had a 383 under the hood. It was sitting on a concrete pad under a tree with quite a bit of shrubbery growing around it.
I went and checked it out right away and unfortunately nobody was home. Quite a few years later, I managed to finally speak to the owner and of course, it wasn't for sale. He didn't seem like he was in the best of moods so I didn't push to look at it too in-depth.
Eventually, a good friend of mine managed to talk the owner into letting him take a full look at it. The results weren't good as he discovered the car was severely rotten underneath and was basically a parts car. On top of that, the owner still didn't really want to sell it so that idea went to the wayside.
In 2018, I was given a tip from another friend about a B3 Blue 1970 Challenger shell sitting in a parking lot outside a warehouse. Of course, I had to go check it out right away. It had some rot and was missing a lot of parts but it would be a great start to a build so I left a note on it asking if the owner ever wanted to sell to call me.
A week later, the owner called me and said he would absolutely sell it however it was a parts car for a Hemi Orange 1970 Challenger R/T project he had that he also wanted to sell. The R/T was way out of my budget at the time but he explained that if the R/T sold first, he'd sell the parts car, which was in my budget, to me. I knew of the perfect person to buy the R/T so I lined up the deal on it. Much to my surprise, it back fired a bit on me as that person ended up buying both the R/T and parts car together.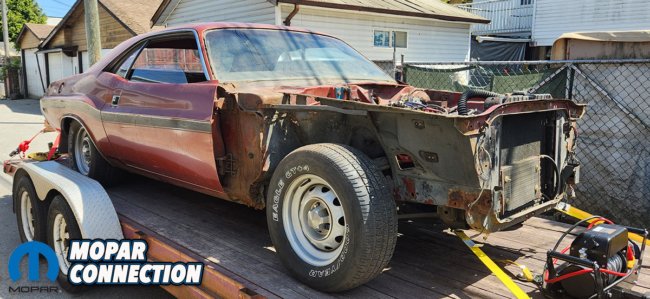 Despite promising I'd get to buy the parts car, he'd end up taking further parts off the car and then sold it to a friend of his, thus completely dis-including me all together. I was very frustrated and disappointed that another Challenger had slipped through my hands but such is life sometimes. At the end of the day, it just wasn't meant to be so there wasn't any hard feelings.
Around October last year, I had listed a reproduction lift off 1969 ½ A12 Dodge Super Bee hood for sale on Facebook Marketplace. A friend of a friend in Vancouver, British Columbia messaged me interested in buying it right away and asked if I could deliver it to their house. I had heard of this fellow and was told he had a lot of cool B and E-Body Mopars so I happily agreed to deliver it with hopes of being able to check out his cars.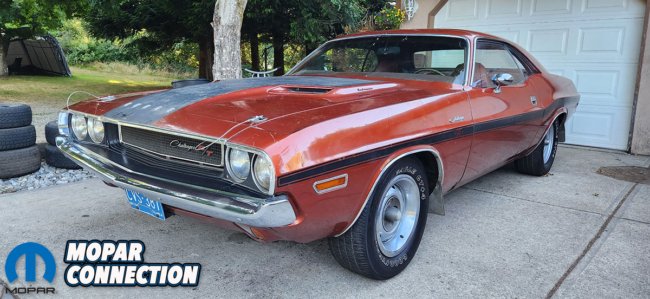 When I got there later that night, he was more than happy to show me his collection of Mopars. With flashlights in hand, he started showing me everything he had. One particular car that caught my eye was a FK5 Burnt Orange 1970 Dodge Challenger R/T. Despite being dark and partially covered under a tarp, something about this Challenger instantly spoke to me. It had some rust in the lower quarters and front floor pans but it still wore its original paint and stripes.
He explained that it was a factory Burnt Orange car with matching burnt orange interior. Under the hood was standard Challenger R/T equipment; a 383 Magnum backed by a 727 Torqueflite automatic transmission and 8 ¾ Sure Grip rear end; all of which were still numbers matching and correct to the car right down to the carburetor and exhaust manifolds!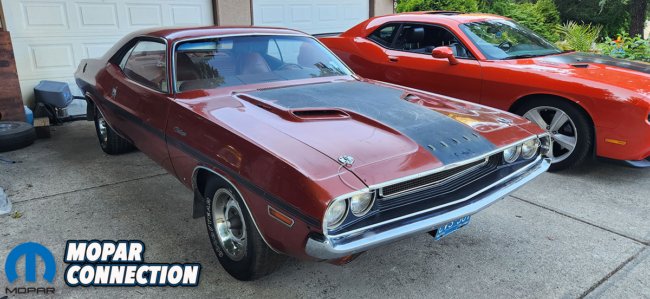 The options included the A04 Basic Challenger group, A62 Rallye instrument cluster, Rallye wheels, center console, painted driver side racing mirror, dual scoop sport hood, hood pins, tachometer, hood black out and black longitudinal stripes.
As he showed me the car, he mentioned that he would sell it and offered it to me for a great price. I told him I really wanted it but had a lot on the go over the next few months with a baby coming and selling a house but once life settled down a bit, I'd be interested for sure. The timing just wasn't there at the moment.
Finally in May of this year, with life calmed down a bit, I reached back out and closed the deal on the Challenger, bringing home my first ever E-Body and finally owning that '70 Challenger I had always wanted.
Originally sold in the United States, this Challenger made its way north early in life to the legendary Crosstown Motors in Edmonton, Alberta. From there, its history is relatively unknown except for eventually traveling one province west to British Columbia where I learned it was owned by a fellow in Surrey, British Columbia in the mid-1990s thanks to some old insurance documents found in the glove box. That owner was a dead-end in the car's history though as a quick Google search discovered that he was arrested recently for vandalizing multiple cars one night with a pair of scissors! Needless to say, I had zero interest in contacting him.
Around 2000, the fellow I purchased it from bought it and stuffed it away in storage. Over the years he would order parts for an eventual restoration and do some work such as new brakes and a new fuel sending unit but never really started the restoration. At some point, he took the front clip off the car and removed the seats, putting everything in storage.
After bringing the Challenger home, I got right to work reassembling the front end of the car as well as reassembling the interior with a good used original carpet kit. The car came with mismatched wheels so I installed a set of matched Rallye wheels with newer tires.
Under the hood, the numbers matching 383 turned over but hadn't been started in a number of years. Over the course of a weekend, I managed to get it running with the help of my father Frank after installing a new alternator, a different carburetor and adding some fresh fluids.
Two short months after bringing it home, the Challenger made its show debut at our big Mopar Madness show in Langley, British Columbia moving under its own power!