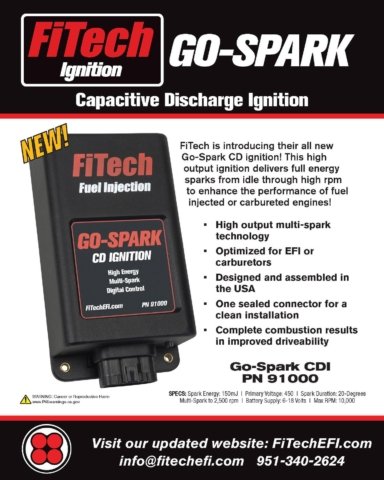 Modern electronic fuel injection (EFI) has certainly made the fuel supply side of things easy nowadays. Even a decently-tuned carburetor can still spit fuel to the flame of a vintage iron lung. But the other half of that beautiful marriage known as combustion is, of course, spark.
In the past, this is where choices have been a bit more convoluted. Points were the go-to in the old days, then dual points, then electronic ignition, and, finally, aftermarket multi-spark ignition. Whether you're running a carburetor or EFI, ignition setup is still an important choice to be made.
FiTech is making that selection so much easier with their brand new Go-Spark capacitive discharge (CD) ignition (P/N 91000). Its high-output multi-spark technology can help improve combustion and enhance overall driveability from idle to red-line.
While the Go-Spark can definitely light the fire of a carbureted engine, it's also a perfect mate for an EFI system like their Go EFI setup. Just one sealed connector is all it takes to ditch the distributor's dance partner and step up to CD.
Packed inside a sealed black box, FiTech's CDI is as inconspicuous as it is powerful. Its size allows it to be as stealthily hidden as needed. Furthermore, as with several of FiTech's products, the Go-Spark is designed and assembled in the good ol' US of A. Visit FiTech or give them a call at (951) 340-2624 for more ignition information.