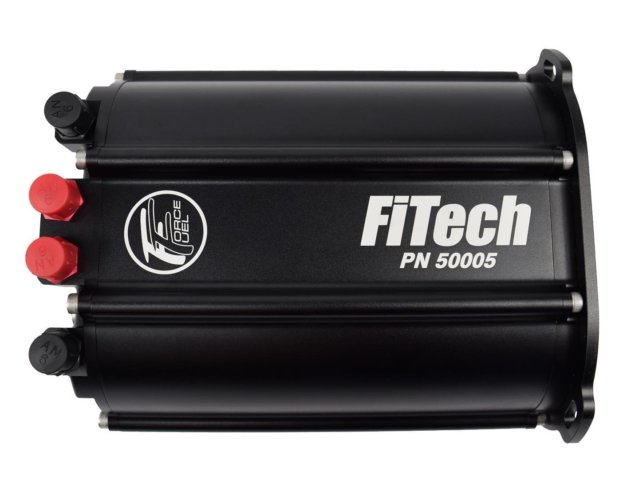 The electronic fuel injection market has matured enough now that there's pretty much anything available from mild to wild as far as horsepower capabilities go. FiTech's catalog stretches from the 400-horsepower Go EFI 2-barrel all the way up to the 1,200-horsepower Go EFI 2×4 behemoth. One problem many find at those higher power levels is being able to feed the beast. The sheer volume of fuel needed to support that kind of go-fast requires a pump setup that is both appropriately-sized and super reliable.
FiTech's new dual-pump Force Fuel system's (P/N 50005) pair of 340 liters-per-hour thrusters is up to the task and able to support an incredible 1,600 horsepower.
All of the same benefits of the original Force Fuel unit, like an adaptable mounting bracket, half-gallon reservoir, and integrated 58 PSI regulation, are included with the dual-pump version.
With both pumps constantly submerged, the chance of fuel starvation is minimized while pump cooling and reliability are kept at a maximum. Four 6AN fittings on top include a fuel inlet, return-to-tank port, and two pressure outlets.
Wiring is simple with two positive posts, one for each pump, and a common ground hookup. Everything inside is compatible with E-85, alcohol, or methanol fuels for maximum versatility. FiTech can also supply all of the complimentary components like filters, pressure gauges, and hose, so be sure to browse before buying.