Let's face it, being a Mopar enthusiast can be tough especially when it comes to restoring or resto-modding a rare machine that simply isn't available anymore. In one such case, the owner of a 1955 Chrysler Imperial was up the proverbial creek. The original column was in less-than-stellar condition and wanted to not only replace the worn out column, but possibly step up to something a little more accessible. And that's where Flaming River's custom steering column manufacturing program stepped in.
Yup! Did you know that Flaming River even had a custom steering column manufacturing program? Don't feel bad, most don't. According to John Jennings of Flaming River, "We were able to maintain the original tube diameter and created a custom hub and shaft to accept the original steering wheel–all while adding the modern convenience of tilt functionality." In the picture below you'll see the two columns, the new CNC-machined, tilt-column with the original factory wheel, and the original column is shown below it.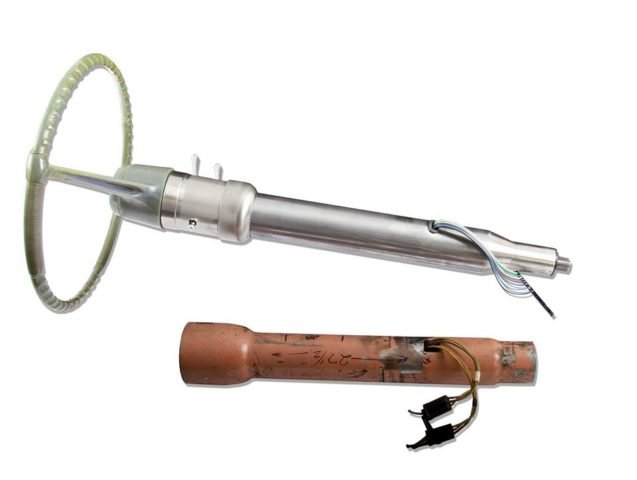 It's really that easy. If you find you've got something so unique that there's no applications out there to fit your project, give Flaming River a call at (800) 648-8022 and speak with one of their sales reps to see what they can do for you – that, email a representative at tech-support@flamingriver.comor simply visit the official Flaming River website HERE. And Flaming River can include any additional accessories to your column, such as column drops or mounts, a cruise control switch, dimmer switch, steering wheel adapter, just check out their complete list of column accessories HERE.