From Father's Day to Labor Day, each month through the summer gives us a reason to celebrate, gather with friends or spend time with loved ones. With that being said, August doesn't present the Nation with much. Although August 10th is National S'mores Day, there isn't much else. For Mopar enthusiasts though, August brings us one of the largest shows in the Midwest, The Mopar Nationals.
The Nats are held every year, normally the second weekend in August, in Hebron, Ohio at the National Trail Raceway. The Nats is more than just a car show; there is a 1/4-mile drag strip, swap meet area, cars for sale, multiple show fields and is one of the few events where you can be OE judged. Each part of the show is big enough that it could be an event by itself but instead we're lucky enough to combine all of it into one giant Mopar gathering.
Earlier this year, the Shelby LLC and its affiliated company, Monopoly Acquisitions, LLC, acquired National Trail Raceway from the National Hot Rod Association. The group has a proven track record with turning facilities around like National Trail Raceway. (They currently own Heartland Park Topeka in Kansas. That facility once had a very uncertain future and now is a Class A location.) With the purchase of National Trail Raceway earlier this Spring, there wasn't much time to improve the track before the car show season. What they have accomplished within a minimal time frame is repaving the drag strip, staging lanes and adding more seating to the grandstands. There are many more improvements expected in the near future and should look even better next year.
Last year's event had some gnarly weather on Saturday and Sunday that killed the show earlier than expected. This year had a few sprinkles on Friday, but Saturday and Sunday enjoyed beautiful weather; both days had mostly clean skies and it stayed dry. More importantly, it wasn't horribly hot this year, few clouds for shade but more importantly, low humidity!
Our weekend started on Wednesday as we picked up Mopar Connection's latest project car. As what has become a bit of a tradition, we unloaded our latest project car, ZomBEE – a pretty rotted-out '70 Dodge Super Bee – off with our friends at Silver Sport Transmissions, who shared some space in their booth for us to display. Since they are going to be a big part of the build, it was the perfect place to show off our 'Bee. The thousands in attendance were welcome to walk around the car, which had literally been fished out of a barn a day earlier.
Once we had the car all set up we were off to check out the show. We started by walking through all the vendor booths. If you are looking for specific parts or great deals, be sure to bring your list and wallet. The show only comes once a year and vendors do some heavy discounts or can bring your. If parts to the show, if you order ahead of time. Year One offered was offering 25% off your purchase, Mancini Racing had two trucks' worth of discounted parts and Cleveland Power & Performance brought a Hellcat powertrain on a pallet to sell; and many other vendors were offering free shipping or big savings on purchases made at the show.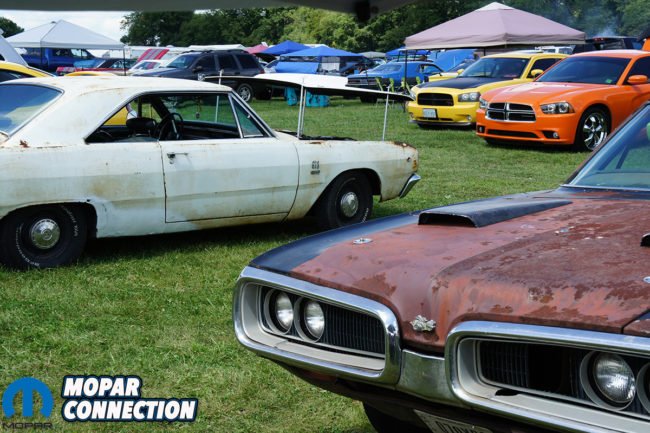 In addition to all the vendors, they were had a few special guests this year that you could meet and get autographs from: Butch Patrick, who played Eddie Munster from "The Munsters" showed up and brought the "Munster Coach" and "Dragula" tribute cars and a trailer full of other props from the show. Mr. Norm graced us with his appearance, while showing off the latest Hurst-built car. Even "Big Daddy" Don Garlits roamed around too. Not only were famous people there but a few some famous cars showed up too. The Silver Bullet and a couple of the Motown Missiles were on display as well.
Although The Nats were honoring the 1967 GTX, we saw an awful lot of 1970 'Bees and winged aero cars. Considering our new project car is a 'Bee, we had no qualms with this. Throughout the show fields you can find just about any model of car you can think of. There were trucks, classic muscle from the '60s and '70s, modern muscle, Vipers, 4-cylinder tuners and more. We loved seeing the diversity of cars that show up every year. Although the classic Mopars stand out, you sometimes forget all the other unique Mopars that have been created over the years. No matter what revs your engine, you can find it at The Nats.
As we made our way through the show, we couldn't help but take a walk through the Car Corral. This year there were a ton of completed driving cars for sale and as many projects. Actually, the Car Corral could have been mistaken for another show field if it wasn't marked accordingly. We didn't make it to the car corral until late Saturday which was not the ideal time if you happen to be searching for your next car. The great deals were scooped up early on and could be distinguished by the big letters SOLD marked on the windshield. Many cars were still for sale and could potentially still be a deal as many owners will change their mind on asking price as the last day comes closing in.
We decided to head over to the swap meet area to search out a few parts for ZomBEE. We found a few pieces we needed but the parts were too nice or priced out of our budget. A lot of the parts for sale are in pretty good shape and could potentially bolt on and use. This is great news for the bargain shopper or someone that wants to build a nice driving car and doesn't want to spend a ton of money restoring a vehicle to concours condition. We also saw a ton of motor parts, from 318s to 426 Hemi blocks. Out of the couple Hemi blocks we saw, one was a Keith Black aluminum block, but had some damage from a rod that took out both sides of the skirt. If you know the right shop, even a block damaged that bad can still be repaired.
If walking through rows of Mopars or searching out parts in the swap meet area isn't your niche, then maybe drag racing is more your style. Starting early Friday morning, the roar of racers jamming gears and spinning tires howled all weekend. In the pits were nitrous-powered Super Pros to front-wheel-drive cars prepping to rip down the track. If you wanted to race, there was a class for you. The Stick Shift Class is always cool to watch and the Hemi Challenge, which was also a neat class to see all the modern Mopars racing each other.
One thing we can't leave out when talking about The Nats is burnouts. They are everywhere. Not only does The Nats hold an annual burnout competition, but everywhere you go outside the track you'll see black marks covering the surrounding pavement. Even while leaving the grounds you can find crowds of people hovering around the gates, rousing every car that goes by to try and spin their wheels, but it doesn't stop there. If you're familiar with The Nats, or have talked to any routine participant, you might hear about the good old days cruising on Brice Road.
Since the majority of Mopars have been ran off of Brice Road, they have formed another cruise, the Mopar Supercruise. This cruise is pretty local to the track and extends from route 79 in Heath southward towards Buckeye Lake. This year, the Buckeye Lake end of the cruise was the place to be. Although the traffic was a mad house, many Mopars put on a great show for many of the locals and show spectators. The local police did a great job of organizing traffic and keeping people safe while still allowing a little fun for the passing vehicles. If you missed it this year, definitely plan for it next year.
Although none of us wanted to see this weekend come to an end, there's no stopping it. Hopefully this year's Nats left everyone with great memories. If you couldn't make it, go ahead and put it on the calendar now. The track will continue to be improved and we are already making plans and gearing up for 2018.